Basement Flooring Options Over Concrete
Deciding to finish your basement off with a stylish and durable floor can make this area a vital living space of your home. But keeping in mind how the material of your flooring will impact your basement is an essential element to ensuring you provide your house with the best investment that works for what you're looking for.
Concrete tends to be a common flooring material in most basements, particularly because the area was either inherited that way or it was a temporary flooring solution. However, besides giving your basement an unfinished look, concrete floors also have a few setbacks of their own, such as susceptibleness to moisture and difficulty retaining heat. When boosting the look and quality of your basement, here are a few other types of flooring options every homeowner should consider: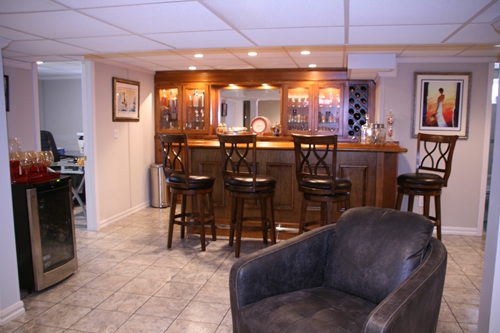 Ceramic Tile
If you enjoy the hardness and durability of concrete but want a material that's more resilient to water and visually alluring, then you might want to go with a variation of ceramic tile flooring. From ceramic to porcelain to travertine, these surfaces make a sophisticated statement to your basement while still serving your floor with a purpose of durability. If you already have concrete flooring, you can quickly install ceramic tile right above the concrete slabs, so you won't have to rip out the entire floor beforehand.
Ceramic tile is also renowned for being water-resistant, which protects your basement from serious damage in the event of leakage or a flooding. In addition to being low maintenance and resilient to potential allergens, ceramic tile comes in a variety of patterns, colors and styles that can spruce the decor of any basement.
Vinyl
Homeowners who love the all-natural look of a wood floor but don't want to risk the potential water damage of this surface if installed in the basement should consider using vinyl flooring. Whether it's providing yourself with a vast variety of style and designs to choose from or taking comfort in knowing you're investing in a surface that's both low maintenance and highly durable, vinyl is always a safe bet when it comes to basement flooring.
Like ceramic tiles, vinyl is extremely water-resistant, so liquids will have a hard time penetrating this type of surface. Vinyl flooring is also great for high-traffic areas, so if you plan on kids or guests frequently visiting the basement, you can rest assured that scratches, dents or scuffs are never invited. Installation is also quicker and easier, and DIY homeowners can swiftly breeze through any initial installation steps.
Laminate
Another quality flooring option that evokes the natural feel of stone or wooden surfaces without all the extra maintenance are laminate floors. Unlike wood, laminate flooring is also recommended for areas of the house that are at risk for water exposure, as this material won't fade or stain from exposure to moisture over time.
When it comes to installation, it's hard to find an easier and more DIY-friendly flooring option than laminate surfaces, as most options come equipped with glueless drop lock installation systems. Laminate floors also have extremely tough surfaces, so they can easily resist stains and are generally easy to clean. Plus, they can give your basement that elegant look of natural materials without having to break the bank capturing their appearances.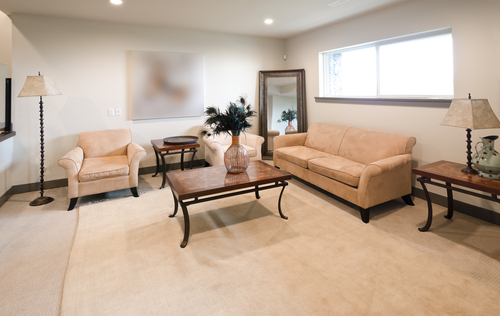 Carpet Tiles
Having a carpet tile surface in your basement certainly gives you plenty of room to customize the type of style and look you want for this area of the house. Carpet tile also happens to be a great option when it comes to caring and cleaning your basement floor. Say someone spills a dark-colored drink all over the floor. Simply unlocking the stained tiles and replacing them with new carpet tiles will help you avoid breaking the bank on a professional carpet cleaning service. This also makes carpet tile arguably the quickest to install out of all the other possible basement flooring surfaces.
Rubber
Finally, if you're trying to stylize your basement as a man cave, kids' playroom or home gym, then rubber flooring might give you the versatility and durability you're looking for. Rubber flooring is exceptional for all high-traffic areas of the house, so installing this material in your basement is a great idea for letting the kids run loose down there. This is also a quality surface for slip and impact resistance, so you won't have to worry about people or your carpet getting harmed after frequent usage. Homeowners who are interested in making their basement a personal project catering a specific use or theme should consider putting rubber flooring in their basement.