What is Acacia?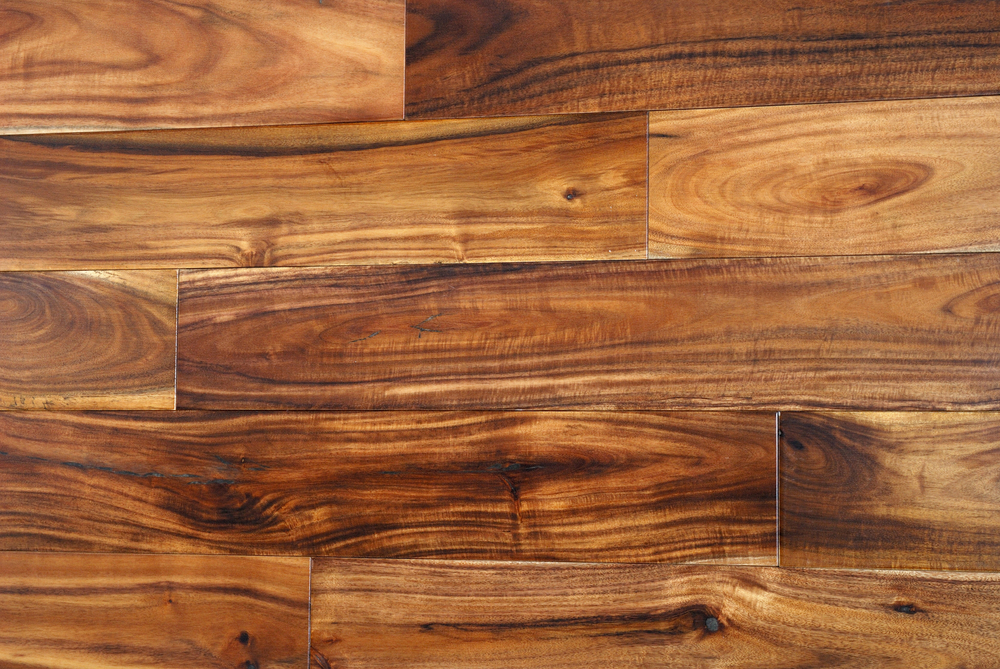 If you're unaware of the stunning flooring option that is acacia hardwood, get ready to learn about your new interior design obsession. Acacia wood makes for durable floors with eye-catching patterns. It comes in a variety of options, leaving you with the difficult task of choosing which fits your home best.
What is Acacia Hardwood?
Acacia Wood Properties and Maintenance
Overall, acacia flooring has a high hardness and a low moisture content, which means it's both durable and doesn't shrink or warp very easily. Acacia flooring lasts a long time, providing homeowners with a good investment. Plus, acacia is easier to maintain than many other flooring options. Acacia only needs to be washed and polished every so often for it to maintain its lustre and beauty.
Acacia is a good choice for families because the floor's durability means it won't be easily damaged and frequently in need of repair or replacement. Despite its hardness, acacia is comfortable to walk on and tends to retain warmth. Plus, you can use it indoors or outdoors.
Australian Acacia
Australia is home to almost all acacia species. Acacia wood gets its fire resistance because, like most species native to Australia, it had to adapt to the frequent brush fires endemic to the Australian climate. Australian acacia isn't fireproof, but the wood is naturally fire resistant. Among a number of other survival traits, some of the Australian acacia species can grow very wide, which makes it a fantastic wood for flooring, furniture, and instruments.
Australian Blackwood, one of the most popular types of acacia wood flooring, has a Janka hardness rating of 1160 and a low volumetric shrinkage rate of only 11.9 percent. Australian Blackwood is typically medium golden or reddish-brown. It has a uniform, fine texture and a mostly straight grain that may occasionally interlock.
Another Australian acacia hardwood is called Raspberry Jam. This hardwood has a dark, reddish-brown heartwood with a lighter sapwood, but the red coloring isn't why it's called Raspberry Jam. Apparently when it's cut, it smells a little like jam. Raspberry Jam acacia has a Janka hardness rating of 3100 and a very low 5.4 percent volumetric shrinkage rate. The grain is uniform and fine.
Acacia Mangium, more commonly known as Black Wattle in the US, has a 1750 Janka hardness rating and is dried to 12 percent moisture for use as flooring. Mangium is native to Australia and Papua New Guinea and has a close grain pattern. You may find Mangium coming from Pacific Island manufacturers because the tree was imported and grown there.
African Acacia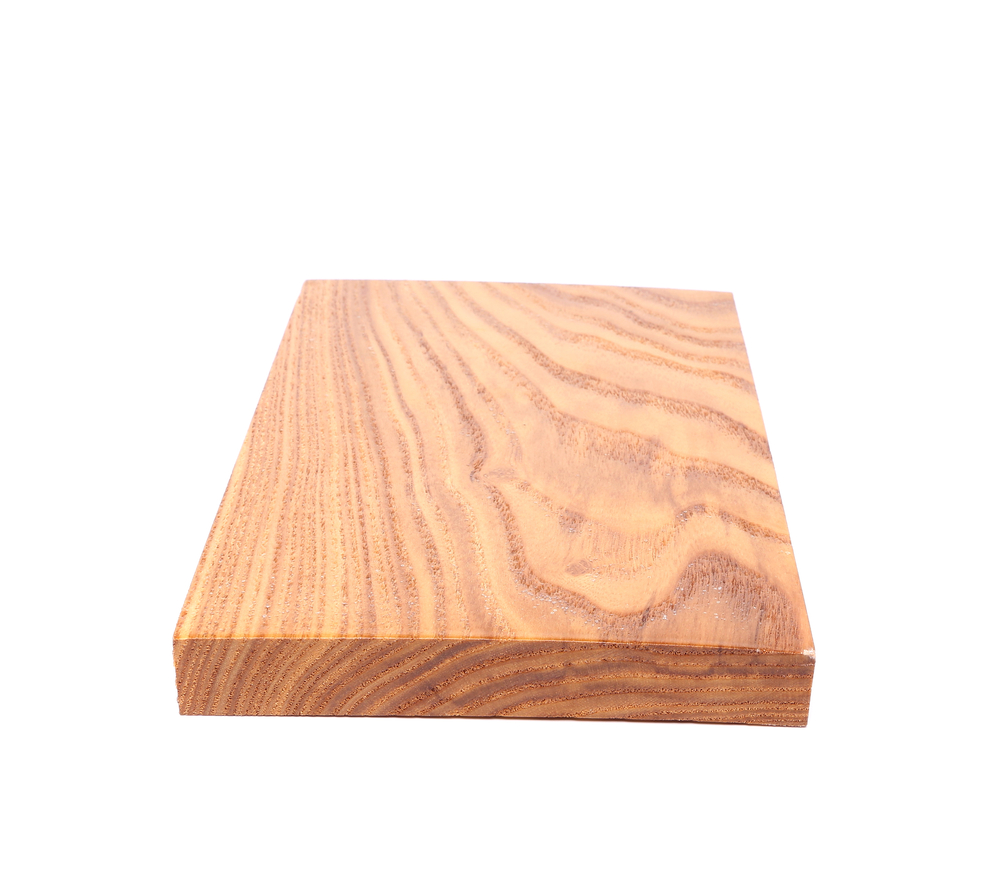 Technically, the scientific community doesn't consider African acacia to actually be in the Acacia genus anymore. Though they're now in the Vachellia genus, wood floor manufacturers and interior designers still know the beautiful patterns and wood to come from African species acacia. African acacia is famous because of its biblical connections; it's one potential translation of "gopher wood" with which Noah built his fabled ark. Ancient Egyptians frequently used acacia wood to build coffins.
African acacia trees typically have large thorns that protect them from predators. Smaller animals, like monkeys, hide in acacia trees when fleeing their natural predators. Like Australian acacia, African acacia has adapted heartily to its environment. Hailing from Northern Africa is Red Acacia, also known as Shittim. It has a Janka hardness rating of 1150 and 9.5 percent volumetric shrinkage rate.
Camelthorn, also known as Giraffe Thorn, is an extremely durable acacia wood variety with a Janka hardness rating of 3680. It has a medium grain with a uniform pattern and is typically a rich, dark brown with hints of red and a yellow sapwood. Because it has protected status in South Africa, Camelthorn isn't easy to get as an acacia flooring option. It's beautiful, but so are many of the more ethically obtained acacia hardwood flooring choices.
Hawaiian Acacia
Although Africa and Australia are the two most well-known places in which acacia grows, Hawaii has its own species of acacia, called koa. The koa tree is native to the Hawaiian islands and is the tallest native tree growing on the islands today. Hawaiians used to use koa wood, which grows plentifully in Hawaiian forests, to make houses, oars, and canoes.
Koa is one of the most expensive and sought-after woods in the world. Quality instruments are often made with koa wood. You may not be able to find koa as a hardwood flooring option (unless you want to order some specially), but you will be able to find some beautiful handcrafted furniture made with koa wood.
Koa has a Janka hardness rating of 1,170 and a volumetric shrinkage rate of 12.4 percent. Its color often bears comparison to mahogany, featuring beautiful medium golden and reddish browns. It has a coarse, interlocking grain that often appears wavy, even sometimes curly. Its beautiful color and texture patterns, along with current Hawaiian restrictions on cutting the trees, make it quite rare and highly in-demand.
Acacia Interior Design
Because of the variety of grains, the diversity of stain options, and plank length and width, you'll be able to find Acacia flooring in a style that fits your interior design motif. One of the most stunning things you can do with acacia flooring is to make the floor itself a centerpiece of your room and your design. Choose an acacia floor option with lots of light and dark diversity in its grain. When each plank meets, it'll create a geometry of color that will naturally draw the eye.
Acacia is almost always warm in color, which means that it'll warm up any room you choose it for. That makes it lovely when paired with other warm, calming colors, like beige, burgundy, and earthy greens. When you want a natural motif that evokes the charms of the outdoors, acacia flooring is your best bet. It looks lovely in rooms with other wood accents, because it can hold its own without being overwhelming.
To really jazz up your interior design, try acacia wood on your staircase. Lay the planks parallel with each stair to create a stunning and surprising staircase. Paint the rest of the stairs white or your favorite version of off-white to really set off the acacia wood's pattern. If you don't have it in your budget to redo your stairs, consider installing an acacia bannister to pull together your design, especially if you're using acacia flooring in another part of your house.
Acacia also looks gorgeous with modern decor. Choose wide planks and a darker shade, then accent the room with your favorite bold colors and clean lines. Something in a white, gray, and red motif will bring out the subtle reds in acacia flooring without overwhelming the eye.
When it's time to install new hardwood, renovate an old carpeted room, or fix up your newly purchased house, acacia wood is a sound flooring choice. Though it's a popular wood, the number of choices will keep your floor as unique as you are.
Interested in purchasing acacia hardwood flooring for your home? Click here to browse our wide selection of acacia flooring products.