How to Avoid Repeat Patterns in Flooring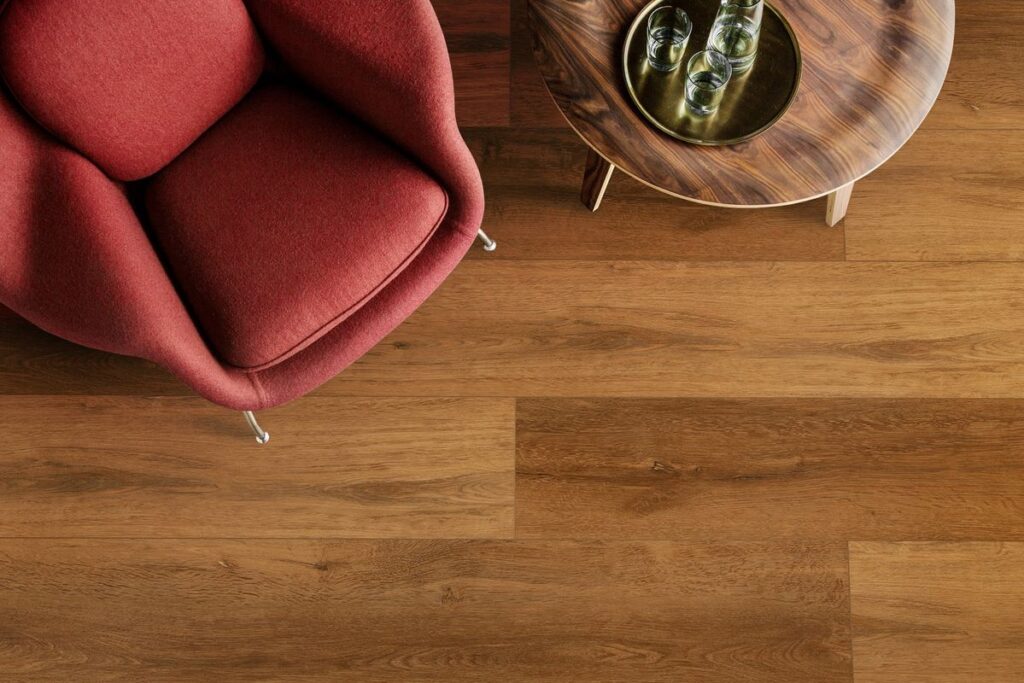 A patterned floor gives a room more visual interest than a wide expanse of uniform color. But if the pattern repeats too obviously, the effect quickly becomes cluttered and unprofessional. The wider the variety in the floor's pattern, the better the overall look. Here's what you need to know to lay patterned flooring for the most professional results.
Standard Pattern Repeat vs. Drop Pattern Repeat
Although vinyl flooring is generally supplied in tiles or planks, it's actually manufactured in large sheets and cut to size before sale. You can watch a video of the manufacturing process here.
How often the pattern repeats in the final planks depends on both the size of the original pattern and the size the planks are cut to. Typically, planks have a pattern repeat frequency of around one in five, although premium products may repeat once every eight planks or even less often.
For residential flooring, there are two main ways in which the pattern repeats, known as standard and drop.
– What is a Standard Pattern Repeat?
With a standard pattern repeat, the repetition of the design is uniform. The larger pattern will be laid out in squares or rectangles, and will repeat perfectly when two cuts of the same size are placed side by side. A standard repeat matches from side to side as well as from top and bottom.
This makes it easier to fit repeating patterns which is good for tiles, but less so for planks where a more natural look is desirable.
– What is a Drop Pattern Repeat?
With a drop pattern repeat, the pattern doesn't match exactly on each side of the initial roll. To get a perfect match, you'll need to move one piece upward or downward until the pattern edges align. This makes it more difficult to align patterned tiles, for example, but the extra random element makes disguising repetitions in planks much easier.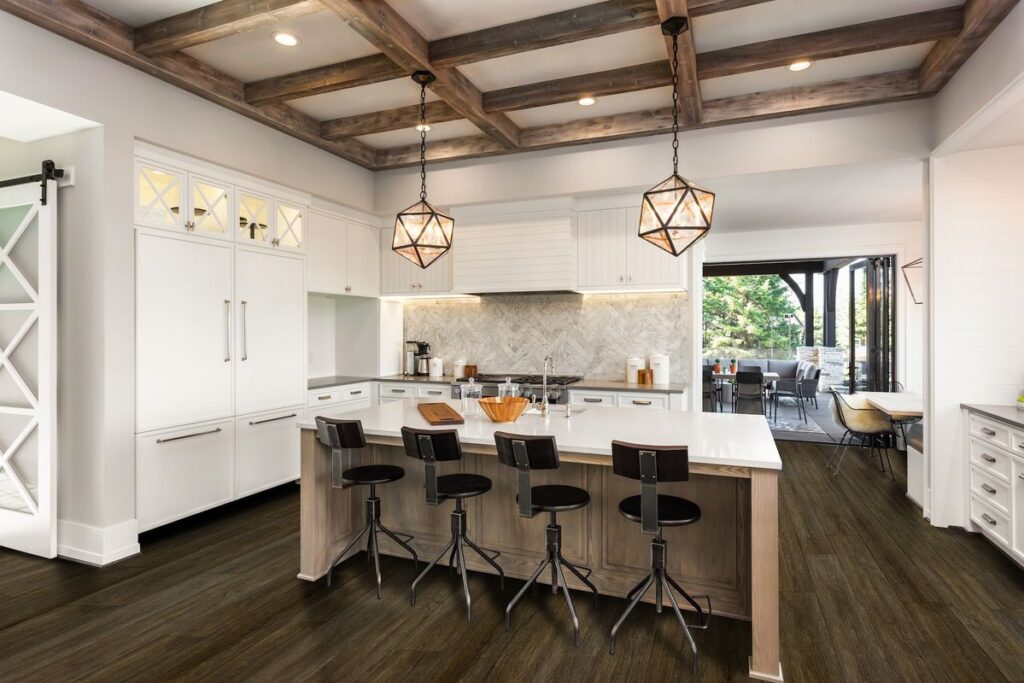 How to Calculate Square Footage for Flooring
You might think that calculating the square footage of your room will tell you how much flooring you need to buy. Unfortunately, it's a little more complicated than that, as there's a subtle difference between ordering for standard and drop pattern repeat.
Ordering Flooring With a Standard Pattern Repeat
For a standard pattern repeat, first measure the length and width of your room. For an example, let's say your room is 15′ long by 20′ wide. Flooring roll comes in fixed widths, so if the roll you want is supplied in widths of 12′, you'll need two widths of roll each 15′ long to cover the whole area.
Ordering Flooring With a Drop Pattern Repeat
If you're using a single roll of drop patterned repeat flooring, then you can simply calculate the length you'll need. But if you need more than one roll's width, then you'll need to allow for the pattern length if you want the rolls to match up.
The first roll you order should be the length of the floor space. The second and further ones should be the floor length plus the whole length of the pattern, in order to ensure you can line the rolls up before cutting them to length.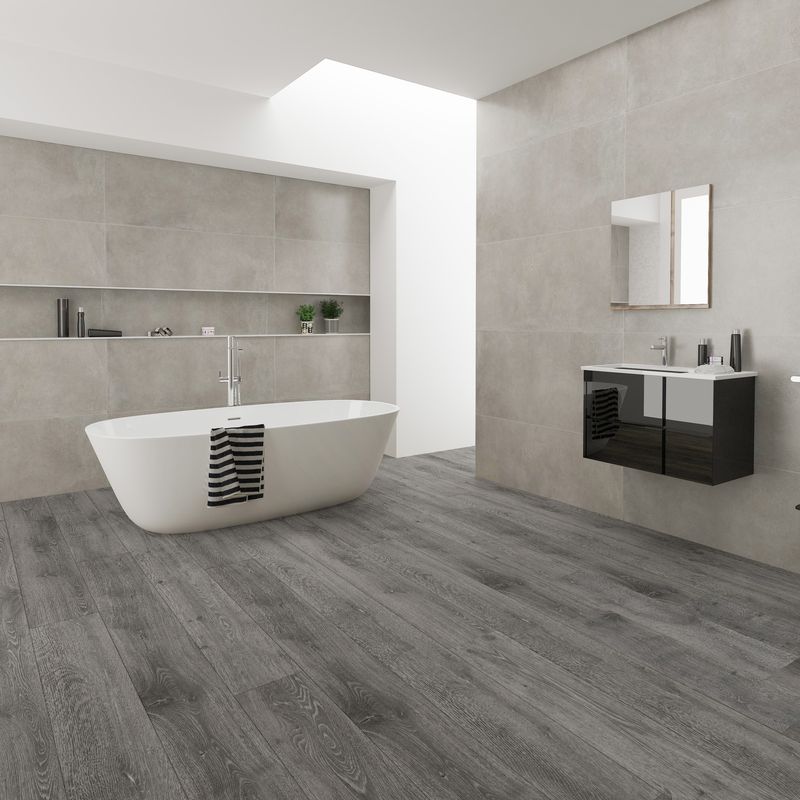 A Technique for Creating a Stagger Pattern as You Go
A professional tip for creating a stagger pattern is to sort your planks or tiles by color before starting to lay them down. This means that the next plank in the pile is always a close match, giving a more even appearance.
Different LVT Installations
There are three main types of luxury vinyl flooring: tile, plank, and sheet. Sheet is the easiest to fit by lining up the pattern, while a little more care needs to be taken with planks and tiles to get a professional-looking arrangement.
Luxury Vinyl Layouts and Patterns
While vinyl planks and tiles can be laid in any pattern you choose, there are several standards which are often used by professionals.
– Diagonal Pattern: This pattern repeats at a 45-degree angle, giving a dramatic and upscale look.
– Offset Pattern: This is the most common pattern, where tiles or planks are offset by around half their width.
– Stagger Pattern: With this pattern, the vinyl pieces are arranged alternately around a central line, giving an essentially random look. A stagger pattern is particularly effective with two-tone planks, where the same pack contains both light and dark tones of vinyl.
– Grid Pattern: This common pattern sets out planks or tiles evenly and symmetrically for a clean and modern look.
– Corridor Pattern: A variation on the grid pattern, with horizontal rows contained within vertical columns.
– Herringbone Pattern: The planks are fitted at 90-degree angles to give a zigzag appearance.
– Random Pattern: As the name suggests, with a random pattern the aim is to have no obvious repetition or order to the planks.
– Mixed-Width Pattern: This pattern lays down planks of varying widths, for a varied and non-repeating appearance.
Realistic Designs
Today's vinyl planks can have a highly realistic look thanks to a modern technique of embossing new textural features over the original pattern. With these planks, the pattern is more random and easier to fit without repetition.
Pattern Pride
But whichever design and layout you choose, working to avoid a clearly repeating pattern will give you results you'll be proud to have achieved yourself, without calling in a professional installer.
FAQs About Avoiding Pattern Repeats in Flooring
– What do I have to do before installation?
To achieve the most random pattern, open your boxes of planks and sort them by color. This will help you pick the right plank quickly when laying them down.
– How do I determine the direction in which to install my laminate flooring?
As a rule of thumb, laminate flooring should be laid to point toward either the main light source or the most-used entrance. If these directions conflict, choose the one that involves less cutting of the laminate boards.
– Do I have to keep staggering the planks in my laminate flooring installation?
Yes. When the patterns line up in adjacent planks, the result is jarring and unsightly. What's more, if the seams also line up, the strength of the floor can be compromised.
– Should wood floors be horizontal or vertical?
Real wood floors should usually be laid parallel to the longest wall, to maximize the sense of space.
– Which direction do I put down my vinyl plank flooring?
Vinyl plank flooring can be installed horizontally, vertically, or diagonally with good results. However, many professionals recommend putting the planks down in the direction of the main light source for the most attractive finish.
– Which way do you lay vinyl plank flooring in multiple rooms?
Ideally, all connecting rooms should have the planks running in the same direction to give a unified look. If this isn't possible, laying a transition strip at the doorway can help smooth out the difference.