How to Glue Down Your Vinyl Plank Flooring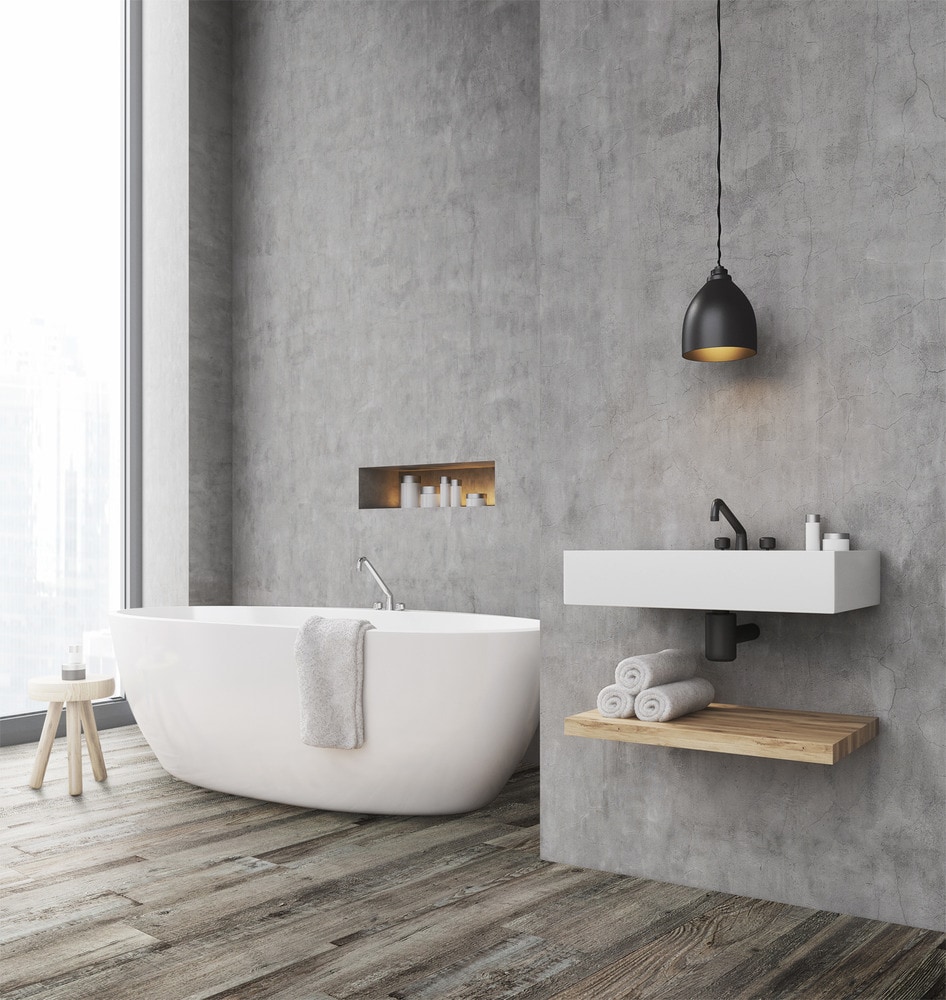 Vinyl plank flooring has become a popular option in homes and businesses because of the wide range of styles and the incredible durability of the flooring. This cost-effective flooring can offer the look of real wood in rooms that hardwood flooring is not an option. It can be used in wet and humid spaces, making it suitable to run from the front door clear through the bathroom and even in basements. Many vinyl plank floors require a glue-down installation process. Determine whether this flooring type is a good choice for your space by taking a look at the subfloor and doing some simple prep work to get ready for the vinyl plank floors to go down.
Acceptable Subfloors for Vinyl Plank Flooring
Wood Subfloors
When you glue down vinyl plank flooring over a wood subfloor, a double layer construction of the wood subfloor is required. If the plywood is porous, prep the subfloor by applying a primer that fills the pores and makes the floor ready to accept the adhesive.
Concrete Subfloors
Vinyl plank flooring is a great choice for installation over concrete subfloors. When applying this flooring over concrete, take note of the grade level. Suspended, on-grade, and below-grade concrete subfloors need to be moisture tested prior to installation. For the best results, lay down a moisture vapor barrier over the concrete subfloor prior to installation.
Existing Flooring
Vinyl plank flooring is so versatile, that it can easily be applied directly over existing floor substrates, including plywood, terrazzo, fiber cement underlayment, vinyl sheeting, and radiant head flooring. It should not, however, be installed over cork, carpet, a floating floor system, laminate, or vinyl with a cushioned backing. You can glue down vinyl plank flooring over appropriate existing flooring to eliminate hours of work peeling up the floor. Simply remove the baseboards and start the installation process, replacing the baseboards after the vinyl plank flooring covers the previous layer of flooring.
Floor Preparation
A few floor preparation steps will get the subfloor ready to accept the vinyl plank floors chosen. First, clean the subfloor to ensure there is no dust or dirt that will prevent the adhesion of the vinyl planks. If carpet has been removed, use a floor scraper to work up any lasting staples or glue residue. If the subfloor features cracks, uneven areas, or gaps, use a cement-based patching compound or leveling compound to even the inconsistencies out. Vinyl plank flooring needs a level and consistent surface for proper installation. Some floors will call for a paint-on primer prior to installation. This primer fills pores in the subfloor and helps the adhesive stick more effectively.
Test the Moisture
Concrete slabs of any kind have the potential to contain moisture and require initial moisture testing. Purchase a Calcium Chloride Moisture Test. Make sure the results are no more than 5 pounds of moisture per 1,000 square feet in 24 hours. The humidity of the concrete floors should not exceed 80% RH per ASTM F2170. These acceptable levels may vary slightly by the type of adhesive used, so make sure to check the manufacturer instructions.
Flooring Material Inspection
Once the subfloors are prepped, it is time to acclimate the floors to the room and provide an initial inspection of the floors. Move the boxes of flooring into the room, stacking them up to two boxes high. Leave them in the space prior to installation for 48 hours to let them acclimate to the space. Open a few of the boxes at the same time during installation and mix planks from multiple boxes to ensure that any inconsistencies in finish are dispersed evenly throughout the floor.
Installing Vinyl Planks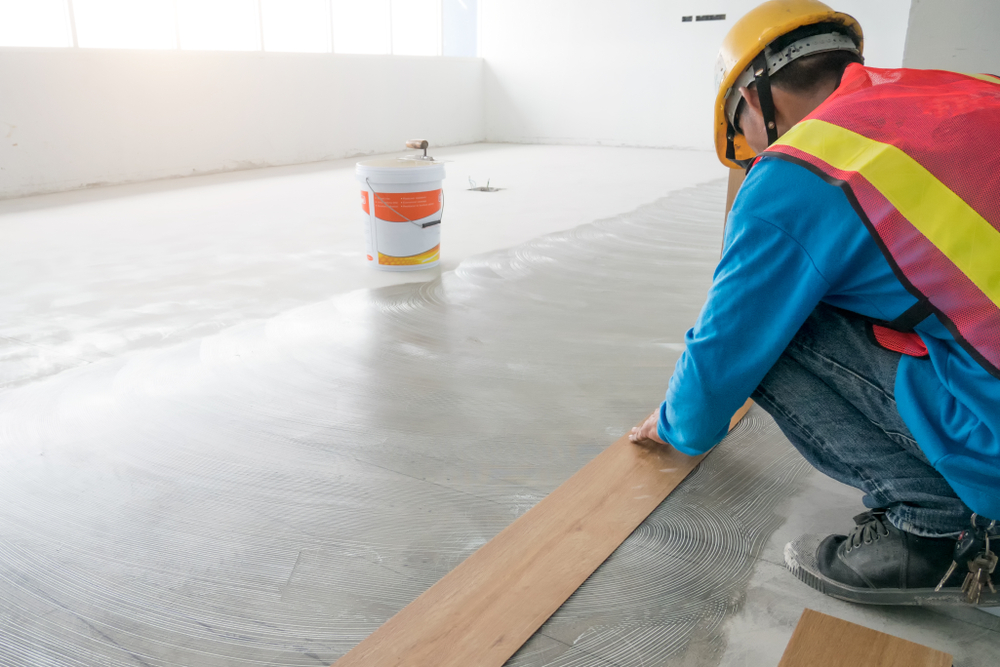 Vinyl plank flooring is relatively easy to install. It can be cut with a metal square and a razor blade or a light-duty tile cutter. The easy installation process of this flooring makes it a popular choice for a quick weekend update of a room. Of course, professional installation is also an option.
Follow Your Manufacturer Specific Installation Instructions
Every brand of vinyl plank flooring comes with specific set of installation instructions. Different brands can vary slightly in construction and the instructions provided for proper installation should be strictly followed. In general, vinyl flooring should be installed with a quarter-inch to half-inch perimeter where the flooring meets the wall, allowing for proper expansion in warm months. The baseboards and quarter round should be installed after the vinyl plank flooring is in place.
Is Glue-Down Vinyl Right for You?
Vinyl flooring is an incredibly durable and cost-effective way to achieve the look of hardwood flooring in a space. Vinyl plank flooring, also commonly referred to as luxury vinyl tile, carries an array of benefits that make it a popular choice. Because it is waterproof, vinyl plank flooring can be used in any room of a home, including kitchens, bathrooms, and basements that are usually off-limits for hardwood floors. Once down, vinyl flooring is incredibly resilient. With proper installation, it will become a fashionable foundation for your room for many years to come.