Vinyl vs. Laminate: What's the Difference?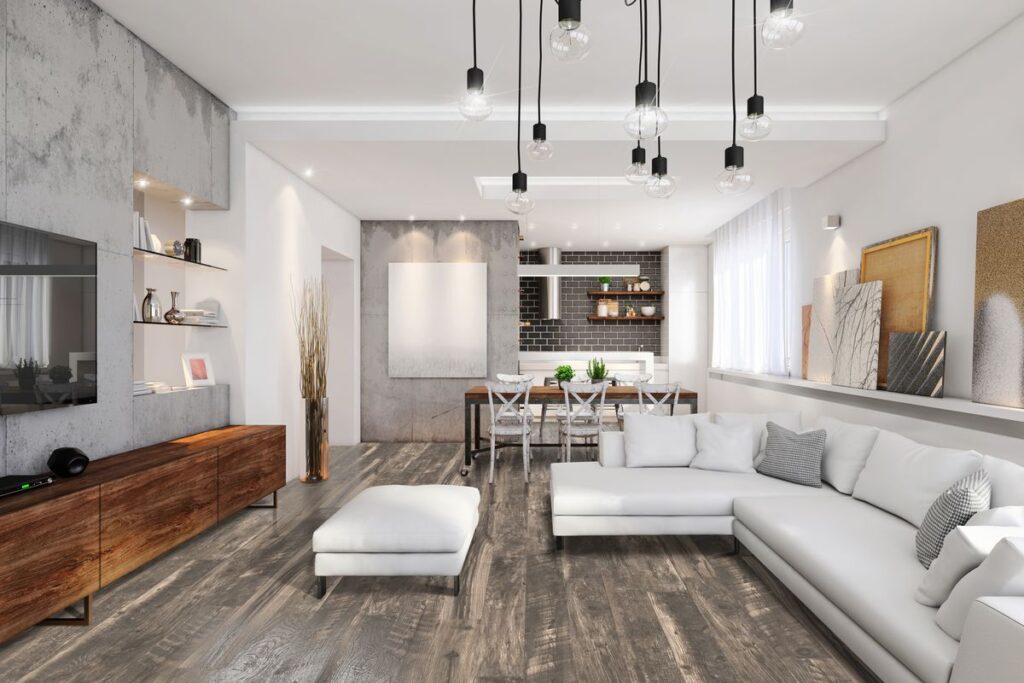 When you're looking for budget-friendly, easy-care flooring options, vinyl and laminate are often the first two suggestions you'll get. While these two types of floors have much in common, they have a few key differences. You should consider these when deciding which one to install in your home. If you're not sure whether to choose vinyl vs laminate, use this guide to help you make the right decision for your needs.
Vinyl Flooring Pros and Cons
Vinyl flooring is made from 100 percent plastic. This composition gives it superior resistance to moisture. When water sits on vinyl floors, even for extended periods of time, it won't damage the surface. Vinyl's water resistance makes it an excellent choice for rooms that are prone to moisture. For example, kitchens, bathrooms, laundry rooms, and basements.
3 Main Types of Vinyl Flooring
Pros
Some types of vinyl flooring are waterproof. For example, wood plastic and polymer composite (WPC) vinyl is waterproof. This is thanks to its composition of thermoplastics, wood flour, and calcium carbonate. It can be installed in areas where high moisture levels are present. Other waterproof vinyl floor options include stone plastic composite (SPC) vinyl, made from natural limestone powder, polyvinyl chloride, and stabilizer. It is also known as rigid core vinyl. You can install it over many types of flooring as a floating floor. When considering moisture exposure, in the vinyl vs laminate debate, vinyl flooring is a clear winner.
Historically, many people considered vinyl aesthetically inferior to laminate. Now, however, vinyl has come a long way when it comes to style choices. You can find vinyl flooring that mimics the look and feel of stone, tile, and even wood floors with realistic accuracy.
Cons
Vinyl has a longer lifespan and better overall durability than laminate. Don't forget to factor in your budget, however. Vinyl flooring may be more expensive than laminate flooring, especially if you choose luxury vinyl flooring. Although it can last twice as long as laminate, vinyl flooring may involve a larger upfront investment.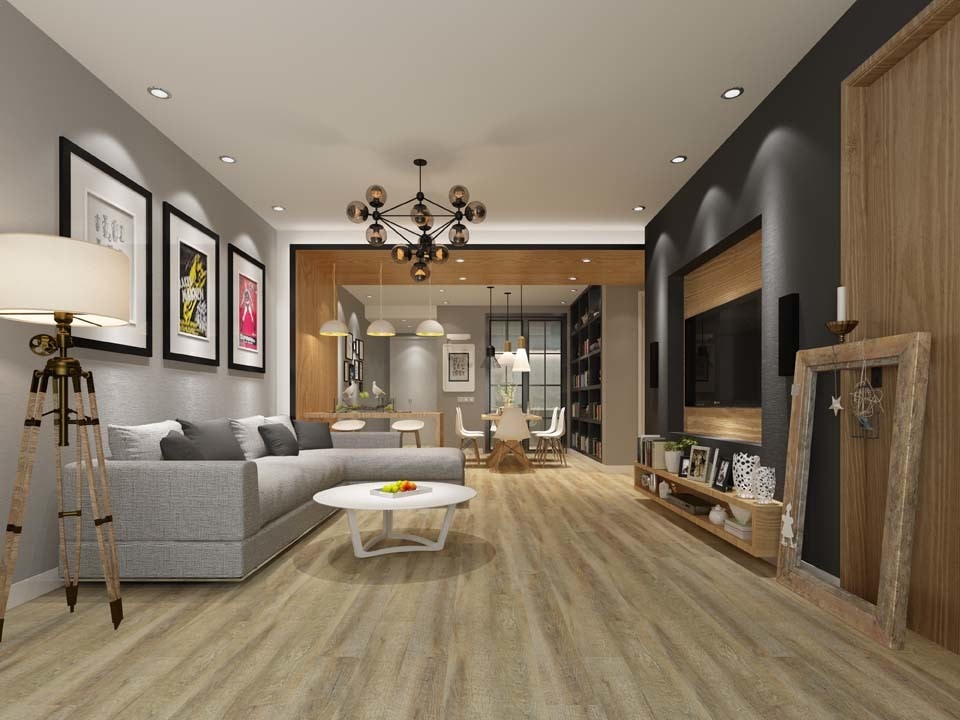 Laminate Flooring Pros and Cons
Laminate is a synthetic product that simulates the look of real hardwood. It can have an authentic wood floor appearance that make it popular with homeowners who like the style of hardwood but want to spend less money on flooring. Although it is a budget-friendly flooring type, laminate does not perform well when it comes to moisture. Some types of laminate have water-resistant properties, but these flooring options are not waterproof and will become seriously damaged if water sits on them for an extended period of time.
Pros
One of the major benefits of choosing laminate flooring in the vinyl vs laminate debate is the comfortable feel underfoot. You may not think of this feature as a significant factor in your decision about which flooring type to choose, but the underfoot feel can have a big impact on whether you enjoy walking on your floors day in and day out. Laminate has a thicker composition that includes wood content, which helps it to feel warmer and slightly soft. Vinyl, however, tends to be quite hard and cold to the touch, so it's generally not the best choice for main living areas and bedrooms.
Many homeowners prefer the look of laminate to that of vinyl. Although both flooring types come in a range of styles, colors, and patterns, laminate typically features better imagery or embossing that gives the floors a more realistic look. Generally, homeowners will choose laminate over vinyl for highly visible areas of their homes, such as entryways, living rooms, and dining rooms.
Cons
Unfortunately, laminate flooring doesn't last as long as vinyl. In many cases, laminate floors need to be replaced within 10 years of installation. The upside is that the initial cost of laminate floors is sometimes lower. If you're on a tight budget, laminate flooring allows you to give your floors a fresh new look for less money. Be sure to save up for the eventual replacement floors if you plan to stay in your home for a long time.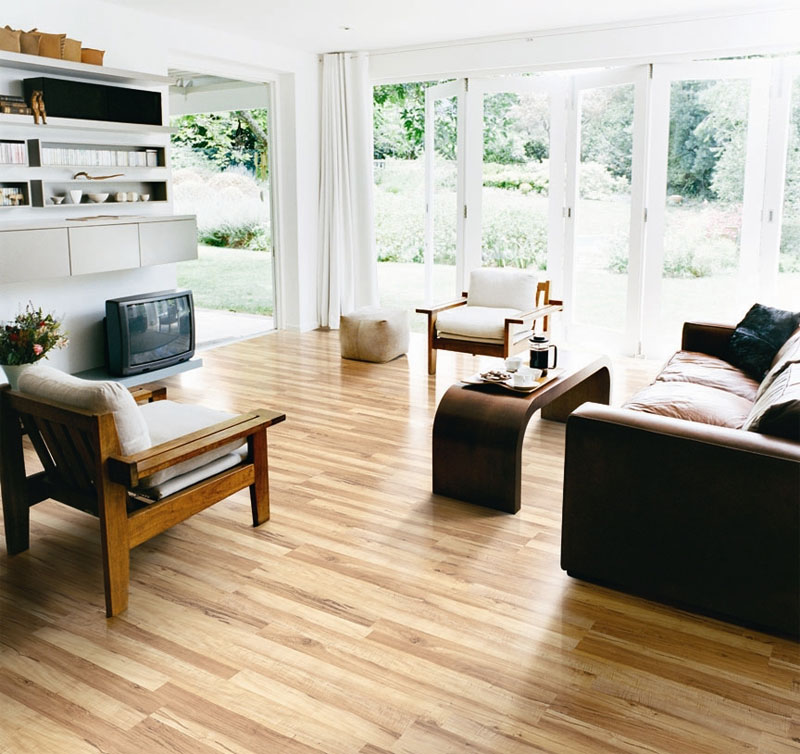 Vinyl vs Laminate: The Similarities
To summarize, vinyl is a better choice when you need water resistance, lifespan, and durability in your flooring. Meanwhile, laminate is preferable if you want a more stylish appearance, lower costs, and a comfortable feel underfoot.
Despite their differences, laminate and vinyl are also similar in a number of ways, including the following:
Ease of Installation: If you need a foam underlayment for laminate or decide to install vinyl sheeting, you may need the help of professionals to complete the installation. However, both laminate and vinyl come in planks that lock together as a floating floor or almost any type of subfloor, giving you the option for an easy DIY installation with either flooring type.
Maintenance: Vinyl and laminate are both easy to keep clean. Simply mop, vacuum, or sweep as needed. You don't need special cleaning products or machinery to keep these floors in good shape.
Eco-Friendliness: Both types of flooring have environmentally friendly options available for purchase. If you want to go "green", look for vinyl with a LEED credit EQ4.3 for Low-Emitting Material or laminate that qualifies for LEED MR4c 4.1-4.2 (Recycled Content) status.
Cost: Laminate is sometimes found at lower prices compared to vinyl. This depends on what type of style and features you're looking for. With vinyl vs laminate, the price is relatively comparable. Both are considered to be two of the most budget-friendly flooring options.
Decide your main criteria for your new floors. Is it more important to get waterproof flooring or something that looks more like real wood? Do you care more about the feel underfoot or the lifespan of your new floors? Use this guide to help weigh the pros and cons when choosing between vinyl and laminate flooring. These tips should help you to make an informed decision and improve the appearance and value of your home.