Sound Transmission and Flooring Types
When it comes to flooring, the more muffled the sound, the better, especially in a multi-story building, house, apartment, or condominium. Fortunately, there are several good flooring choices with effective dampening properties to reduce sound transmission.
Sound is transmitted when hard objects, like hard-soled shoes, furniture, dropped objects, or even dog claws impact a hard surface, like tile or stone. Without anything to absorb it, sound waves can spread, multiply, and echo off the walls, amplifying even a small sound to a distracting crescendo with the right acoustics. Given a large room with high ceilings and hard polished floors, a simple walk across the lobby of an office building, for example, can become quite a distraction.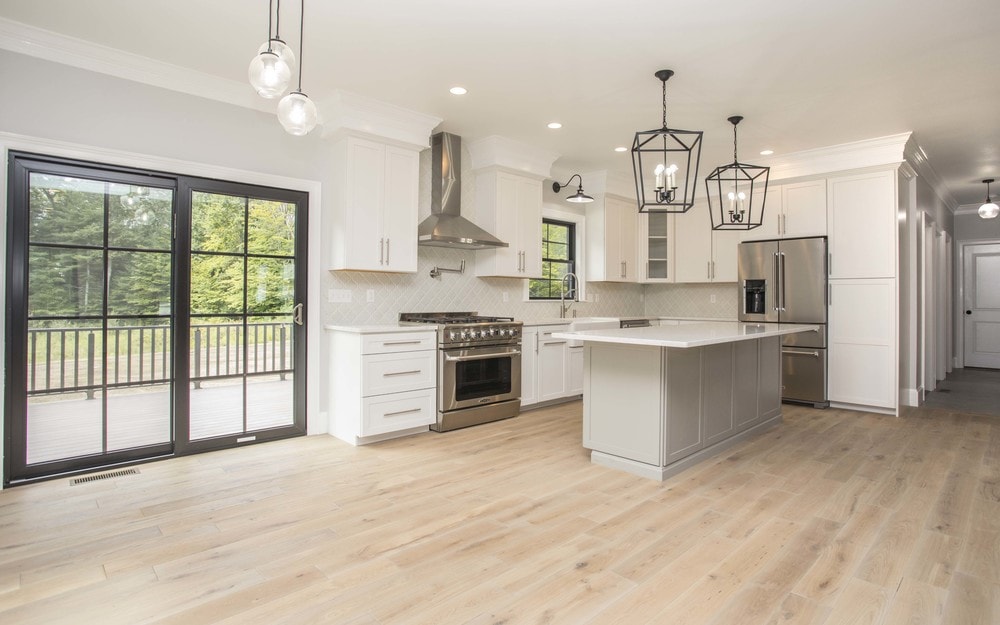 Sound Transmission Ratings
There are three different standards for rating sound transmission. Each defines a different way in which sound is transmitted. The first two measure flooring sound transmission. The third covers room-to-room transmission, more appropriate for walls.
IIC (impact insulation class) is measured in terms of sound impact, or how well sound vibrations travel through a floor to the room below.
IIC 50 has the least impact sound absorption quality. While this may be appropriate for ground floors, it would be unsatisfactory for most on a high floor without a great deal of insulation in the area between the floor and the ceiling below. Most stone and tile will fall into this category.
IIC 60 indicates a medium impact sound absorption quality and encompasses floorings such as wood, laminates, and some vinyls.
IIC 65 is a high level of impact sound transmission absorption and includes superior sound reduction materials like carpet and cork.
Surfaces and areas under the floor influence impact isolation class. Underlayment and insulation significantly enhance the IIC. The "loudest" floor is stone or tile laid directly over concrete. However, the IIC scale does not account for joist noises like squeaking or rattling.
NRC (noise reduction coefficient) measures the amount of noise absorbed by the material and not reflected. A room with a high NRC rating eliminates background noise and echoes to help clarify speech. Theaters, for example, are constructed with a high NRC rating in mind. Without it, sound waves would bounce off the walls and crash into each other, creating a cacophony of continuous sound, making individual words impossible to distinguish. Carpet, with an NRC rating of .40–.50 is the most efficient absorptive material. Vinyl, cork, and rubber have a fairly high NRC rating, with hardwood, bamboo, tile, and stone at the bottom of the scale for sound absorption.
Under the Floor
The top layer of flooring is only the tip of the iceberg for flooring sound transmission. Other factors include the underlayment and subfloor, plus adhesives and sealants used during installation. If used on a higher floor in a multi-story structure, insulation between the floor of one room and the ceiling of the room below plays an important part in deadening sound. Any kind of insulation packed between the joists will not only help to trap and dissipate sound, it will block the loss of heat or air-conditioning, effectively lowering your utility bills.
Installation Materials
The use of flexible acoustic adhesives adds yet another layer of sound dampening properties to the floor. When applied around the edges of the floor, flexible sealant is designed to fill gaps. For example, where the floor meets the wall, around doors or air ducts, blocking channels where sound can travel.
Flooring for Sound Reduction
Carpet
Number one on the on all counts is carpeting. By definition, carpet is the antithesis of hard, echoing surfaces. Carpet and the padding under the carpet absorbs and deflects sound waves. Sound absorption is further enhanced with a thicker pad. Carpet is usually the cheapest option in the short run. However, it is also the most problematic in terms of durability, cleaning, and allergy aggravation because it tends to trap allergens and dust.
Cork
Cork is a great choice for sound reduction. It does more than merely dampen sound, it absorbs it. Cork creates a blissful peace that everyone will appreciate, including downstairs neighbors. It is such an effective sound reduction material that it is used on walls to soundproof recording studios to produce clear soundtracks without background noise. The key is in the porous structure of the cork. Rather than bounce around, the cellular structure of the cork breaks up the sound waves.
In addition to the obvious benefit of sound reduction, c𝘰rk flooring adds natural warmth to rooms and a slightly springy give that makes it comfortable and easy to walk or stand on and may even save dropped objects from breaking on impact.
Vinyl
Foam-backed quality vinyl flooring has a cushioned, flexible surface, making it a good choice for a sound reduction. But, as with everything else, you get what you pay for. While you can install any tile over an existing floor, the material of the floor will influence sound absorption qualities. Top quality vinyl will help nullify that factor and provide a nearly soundless surface that has spring and give for comfort.
Laminate
Laminate flooring is a reasonably good choice for sound reduction with the addition of a quality underlayment. Underlayment adds a feeling of solidity and comfort to the floor. It reduces the hollow percussive sound produced by footfalls when laminate flooring is floated over a subfloor without underlayment. The underlayment pads a laminate floor much in the same way that a pad works under carpet, adding give for extra comfort and insulation for overall warmth.