Different Molding Types and Where to Install Them
Whether your home features a modern or traditional design, molding and trim adds a decorative element to any space and smooths the transition from wall to either floor or ceiling. A simple way to increase the value of your home, installing moldings can provide a unique architectural feature to your home. What's more, many options are easy to install, making them the perfect do-it-yourself project. But before you select any molding, you should know what's available, where they go, and the range of different styles. With that in mind, here's a look at moldings:
Types of trim
The decorative borders in your home are collectively called trim, and they come in different types. Knowing what these are and where you should install them will help you shop for trim:
Baseboards
Working from the floor up, you'll first encounter baseboards. These are long strips of wood adhered to the base of your walls that abut the floor. They help create a transition between walls and floors. Baseboards can be simple in shape, or have additional pieces, like shoe molding, that provide a decorative touch.
Wainscoting
Not a trim necessarily, wainscoting is paneling that exists between baseboards and picture rails that's installed over the wall. However, you can also find pseudo wainscoting that features decorative trim installed right on the wall between the baseboard and chair rail. Some homeowners even do away with the trim and just paint the area that would have wainscoting a different color from the rest of the wall.
Chair rail
A chair rail, also known as dado rail, rests partway up a wall, about where the back of your dining chair would hit the wall. In fact, that's where the molding got its name. Often chair rails are only installed alongside wainscoting. However, that's not always the case.
Picture or plate rail
Rather than hanging pictures straight on a wall, some homeowners display their art by attaching it to picture rail, which is a type of molding that runs horizontally around a room (usually at the same height as the top of a door). This molding can help prevent damage to your walls and creates an additional layer of decoration. Plus, it's an easy way to ensure all of your art is hung at a uniform height. Many people set up plates on the rail as well, using dishware as a decorative element. Picture rails are less common than they used to be, but look great in traditionally styled rooms with other decorative moldings.
Casing
Casing surrounds doors and windows and is often the same color as the trim in the rest of the house.
Crown molding
Located at the seam between the ceiling and wall, crown molding sits atop your room like, well, a crown. There are many different styles of crown moldings that range from simple to ornate, so you're sure to find the perfect look for your space.
Various styles of trim can also be paired with other decorative pieces, such plinth blocks, which are transition moldings between door casings and baseboards. With moldings and trim, you can add as much or a little detail as you like, depending on the architectural style of your home.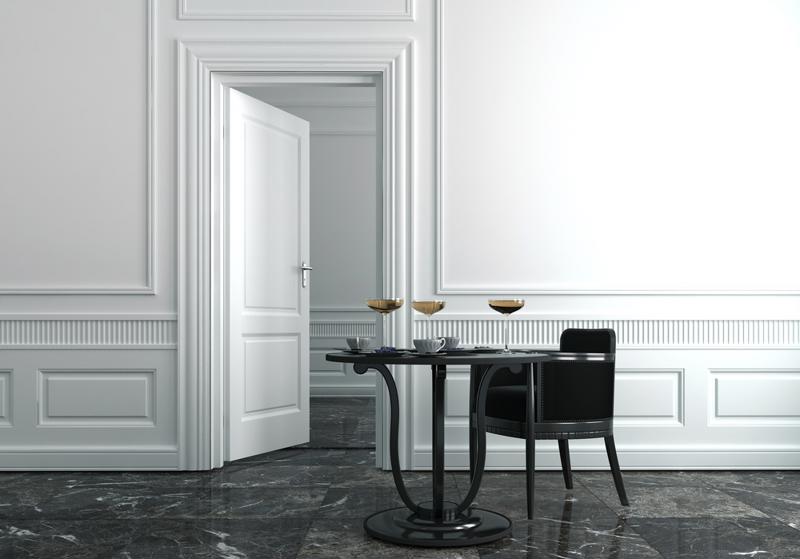 Molding material choices
Trim, molding, and baseboards can be made out of a number of materials, giving you flexibility in your design choices, sometimes quite literally! Wood is the most popular and traditional trim option. It's lightweight, easy to paint, and flows naturally with your walls. You can also find alternatives, such as foam, rubber, plastic, and polyurethane. These alternatives are generally engineered to resemble wood, but offer benefits such as resistance to moisture and the ability to bend.
The features and cost of the materials should both factor into your molding choice.
Where to hang moldings
You can install trim in any room of your home, from the kitchen to the living room to even the bathrooms. Generally, if you have baseboards and crown molding in one room, they should continue throughout the house for consistency.
When it comes to bolder options like picture and chair rails and wainscoting, however, you don't have to put it everywhere. Many homeowners only install this trim in high-impact or formal areas, such as dining or family rooms.
With so many types of trim available for your home, you can create a wide range of highly decorated or subtle looks. The first step is knowing your options.
What type of moldings are you considering for your home?
Browse our selection of architecturally enhancing Moldings & Trim here. Complete the look of your space.