Understanding Abrasion Class Rating for Laminate
When you install flooring in a brand new space during a building project, or you take on a renovation that involves a flooring upgrade, you expect the material you choose to last. When you opt for laminate, you can rest easy knowing that you've picked an ultra-durable material that is made to look spectacular for years. That's true even in high-traffic spaces.
Even high-quality laminate flooring does wear down over time though. In very busy spaces, nicks, scratches and even gouges will start to pop up. Choosing a laminate flooring material with the right abrasion class rating for your space can help prevent damage and prolong the lifespan of your floor. You don't have to give up the good looks modern laminate made to look like wood, stone or other more expensive, harder to care for materials to get it, either.
Use this guide to learn more about abrasion class ratings when choosing laminate for your home or commercial property. Properly chosen flooring material will stand the test of time and look great every single day.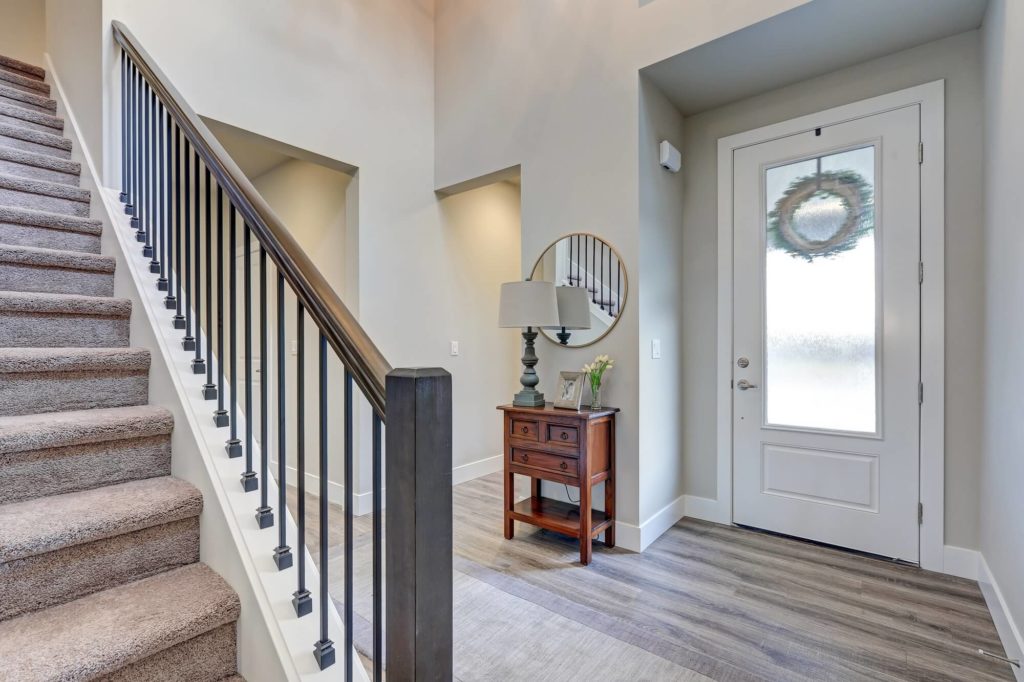 What is an Abrasion Class Rating?
If you've ever shopped for laminate flooring or looked for it online there's a good chance you've seen a code or set of numbers somewhere on the packaging or in the description. Denoted with the letters AC before one or two numbers, this is the abrasion class rating of that specific laminate flooring.
While a few factors go into giving laminate flooring an abrasion class rating, the system is designed to help buyers choose durable materials ideal for their spaces. In practice, high-traffic residential spaces typically utilize laminate flooring with a higher abrasion class rating. Commercial buyers would opt for an even higher rating than that.
Residential shoppers outfitting low-traffic spaces may choose to save money by choosing a laminate flooring material with a lower abrasion class rating.
What are the Different Ratings?
Abrasion class ratings are relatively simple to understand, but you have to know the different variations before you start shopping for the right laminate flooring. Here's a quick list to help you learn more about the different ratings:
AC1
The lowest rating given to laminate, AC1 rated materials are best used in low-traffic spaces like bedrooms.
AC2
AC2 materials work well in common spaces throughout the home since they are more durable. Dining rooms, family rooms and living rooms are prime examples of where you might see AC2 laminate flooring.
AC3
Sometimes referred to with a rating of "class 23" or "class 31," laminate flooring material with this rating is deal for parts of your home that see heavy use. You can use it in other rooms as well to keep your look the same throughout adjoining spaces. "Class 31" materials are functional in light-duty commercial spaces as well.
AC4
Ideal for high-traffic spaces in residential environments like walkways, hallways and entry areas. This material can also work in commercial spaces like offices.
AC5
Best reserved for high-use commercial spaces. Excellent for busy office lobby areas and retail spaces with steady foot traffic.
AC6
AC6-rated laminate flooring is the most durable option on the market. You'll see AC6 laminate in public areas like airports.
Which Abrasion Class Rating is Right for Me?
Choosing the ideal laminate flooring can seem a bit daunting when you're trying to balance style, durability and come in at or under your budget. Here are a few considerations to keep in mind when choosing laminate flooring.
Foot Traffic
Foot traffic plays a major role in choosing the right laminate for any space. Are you outfitting a back bedroom that rarely gets used? AC1, AC2 or AC3 materials may all work well. However, if you're designing a bank lobby, AC4 or greater will stand the test of time much better.
Cleaning
In commercial spaces specifically, solvent-type cleaning chemicals may be required. These can take their toll on laminate materials with a lower abrasion class rating. Consider how and how often you will be cleaning your laminate floors.
Cost
Laminate flooring materials with high abrasion class ratings often cost more. This can improve durability, but choosing material with an AC6 rating for a bedroom just doesn't make sense. Aim to balance cost and durability to meet your needs.
Laminate flooring is a durable, cost-effective choice for both commercial and residential properties. Fit for high-traffic lobby areas and barely-used bedrooms, there's little you can't do with laminate. Modern styles also make it incredibly easy to find the look you're after for any design scheme.
Need a little help learning more about laminate, abrasion class ratings and durability in general? Check out our guide on how to test a laminate flooring sample. Don't hesitate to reach out to one of our trained representatives either. We're here to help answer your laminate and flooring-related questions!