How to Clean Strand Woven Bamboo Floors
New bamboo floors offer a gorgeous shine that you'll likely want to retain long into the future. While a little wear and tear will ultimately add personality to your flooring, it's important to care for your floors properly to preserve their appeal and lengthen their lifespan. Bamboo is just as strong as hardwood flooring, but it is a unique product that requires its own level of care and consideration. Read on to learn everything you need to know about keeping your strand woven bamboo floors in shape.
How to Make Your Floor Shine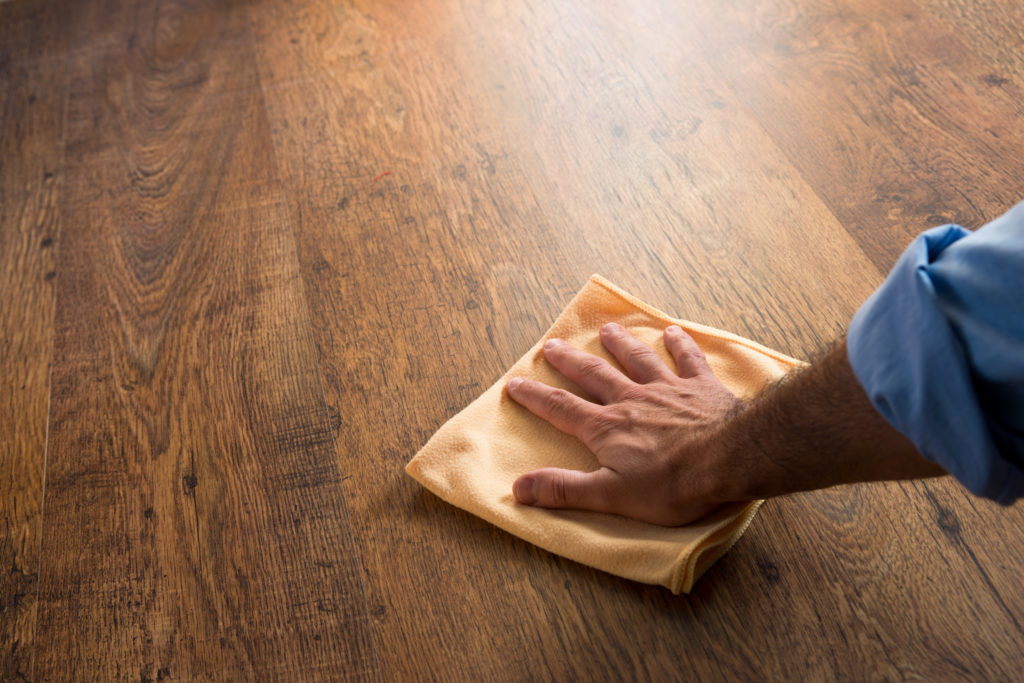 The best way to make your bamboo floor shine is to make sure that you're caring for it right. If you use the wrong cleaners, you'll give your floor a dull appearance. Though vinegar and water is a natural choice for floor cleaning, this combination strips the floor of its beautiful luster. Using waxes or furniture polishes will dull the floors too. These products leave a greasy residue as well, which may attract dust, pet hair, and dirt.
Avoid giving your floors a dingy appearance by learning how to care for them properly. When you use the right tools and cleaning solutions, you'll be able to keep that gorgeous like-new shine on your floors much longer than you would otherwise. Use the right cleaning schedule for your flooring so you can take proper care of your strand woven bamboo and get the sleek appearance you're after.
Soft-mop your floors daily.
Capture dirt and other dry messes with a soft bristle broom.
Wet-mop your floors for a deep clean as needed, usually weekly with family wear.
Refinish the floors as needed to restore shine.
Soft Bristle Broom
A soft bristle broom is an important tool in your arsenal for maintaining beautiful strand woven bamboo floors. The soft bristles will prevent any type of scratching or abrasion against the flooring. Regular sweeping is a quick and easy chore that you can incorporate into your daily routine to maintain your flooring.
Designate your brooms for indoor use only. If you go back and forth between indoor and outdoor sweeping, you'll only bring more dirt, pollen, grass, and other particles into the home. Give your broom the care and attention that it needs to stay in shape and do its job well. Clean the bristles on a regular basis, removing hair, dirt, and debris. A dirty broom will only move the mess, while a clean one can help you sweep it up.
Soft Cloths and Mops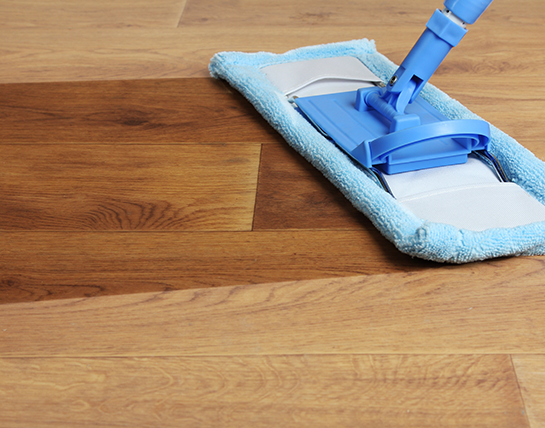 A soft dust mop is a powerful tool for keeping your bamboo floors looking fresh. A dust mop does much of the same work as your soft bristle broom. The broader flat surface will wipe dust from the surface of your bamboo in wide swaths. A good dust mop will be your go-to tool for daily cleaning. You can quickly swipe the mop across the floors and use a small soft bristle broom and dustpan to catch the dirt that you collect.
You can also use a wet mop on an occasional basis for a more thorough cleaning. You shouldn't wet-mop your floors too often. Reserve this for deep cleaning. Depending on the level of traffic in your home, you may need to wet-mop weekly, bi-weekly, or even monthly if you don't have kids or pets and have light traffic through the house.
Soft cloths are something you should keep on hand to clean up spills. Never leave any type of moisture sitting on your strand woven bamboo floors. This can cause permanent staining or swelling. Repairing bamboo floors can be a costly proposition, so you should act fast when you can to minimize damage. Wipe up wet spills first and address cleaning and polishing later. Keep a generous stock of these cloths at hand, so you don't have to waste time wondering what to grab when you overturn a glass or discover a puddle.
Floor Cleaners
Be mindful of the products you use on your bamboo flooring when you decide to wet-mop. It's important to avoid anything that will mar the floors or leave a residue. You should not use waxes, polishes, or acidic liquids like vinegar. Avoid products with oil. While you can use a small amount of water on strand woven bamboo floors, you should never flood them.
The best choice for cleaning your floors is one that's formulated specifically for bamboo. There are many commercial options on the market that take the unique needs of bamboo into account. Once you've chosen your cleaning product, you should pour it into a shallow bucket. Dip your cloth or mop into the solution and wring it out completely before you proceed to clean your floors. The goal is to get a damp cloth or mop, but not one that's dripping.
Preventative Maintenance
Maintaining clean bamboo floors begins with prevention. The more dirt you can keep off your floors, the more damage, staining, and abrasion you can avoid. Keep your floors dirt-free with well-placed rugs to capture dust, dirt, and moisture before these hazards get to the bamboo. This is especially important in front of your doors, where you're most likely to track these troublemakers in. Have everyone drop their shoes by the door to minimize the chance of bringing dirt in further.
Place felt pads under furniture legs to keep them from denting or scuffing the floor. Lift furniture when you move it to prevent scratches. Simply taking the proper steps to keep dirt away will instantly make your floors more appealing. If you care for your floors properly from the beginning, you'll enjoy the longest possible lifespan from this product.
Keeping up with a regular cleaning routine will make a huge difference in the appearance of your bamboo floors. Sweep and mop regularly so you're always on top of dust and dirt and avoid any type of significant build-up. This approach to floor care will give you a like-new shine for your bamboo flooring long into the future.

Resources:
https://www.bambooflooringcompany.com/bamboo-flooring-blog/maintaining-the-beauty-and-shine-of-bamboo-floors/
https://www.bobvila.com/articles/how-to-clean-bamboo-flooring/
https://www.thespruce.com/how-to-clean-bamboo-flooring-1314825
http://cdn2.hubspot.net/hub/334974/file-682940659-pdf/Docs/Technical/Strand-Woven.pdf?t=1405515061077
https://www.hunker.com/12328233/what-cleaners-can-be-used-on-a-bamboo-floor
http://www.brightfields.co.za/blog/2013/3/7/how-to-care-for-your-strand-woven-bamboo-flooring