How to Install Floating Hardwood – The Glue-Seam Method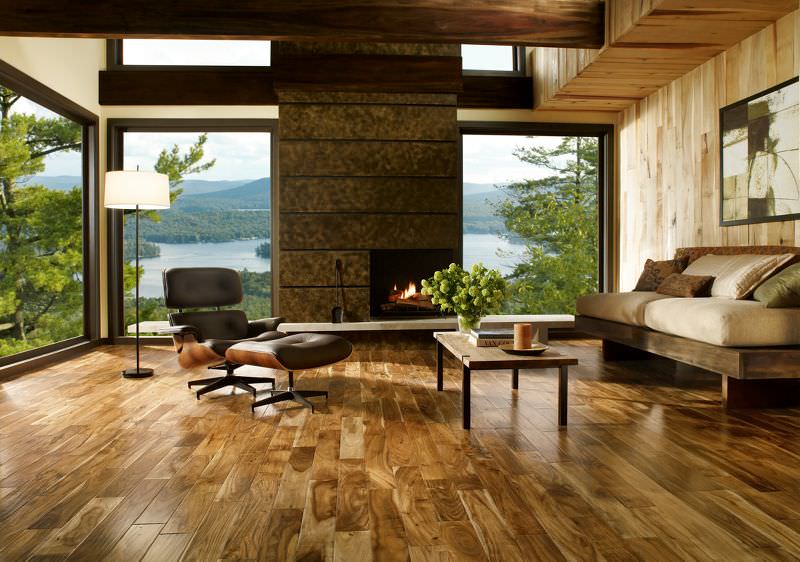 Considerstions Before You Install Floating Hardwood
Installer/Owner Responsibility
It is important that you read and understand the following information and instructions in their entirety before you install floating hardwood.
When flooring is ordered, 5%-10% must be added to the actual square footage needed for cutting and grading allowance.
Do not open the flooring packages until you are ready to begin installation.
Make sure you thoroughly inspect all flooring products in each carton before permanent installation.
The installer assumes all responsibility for final inspection of product quality. This inspection of all flooring should be done before installation. Carefully examine flooring for color, manufacturing, factory finish and quality before installing it to ensure it meets the grade ordered. The installer must use reasonable selectivity and remove or cut off pieces with defects, whatever the cause. Slight bowing is acceptable prior to installation and will be eliminated upon laying the next row down without hampering fi nal installation results. If material is not acceptable, do not install it and contact the seller immediately.
Prior to installation of any hardwood flooring product, the installer must determine that the jobsite environment and the jobsite subfloor meet or exceed all applicable standards for being structurally sound and environmentally acceptable. The construction and subfloor must be clean, dry, flat and structurally sound. Flooring manufacturers will decline any responsibility for failure or deficiencies of the flooring resulting from or associated with subsurface or jobsite environmental conditions.
Work out of several cartons at the same time to insure color and shade mix.
Tools & Equipment Needed For Installation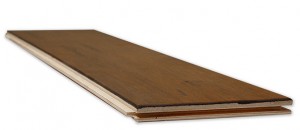 Table
Handsaw
Circular or jigsaw
Tape measure
Chalk line
Pull bar
Hammer
Tapping block
Wooden or plastic spacer wedges
Moisture Meter (can be rented)
CAUTION: By not using proper tools, "puckering" may result on face of the plank. The manufacturer and seller will not be responsible for problems caused by use of improper tools.
Note: Never hit the planks directly with a hammer–always use a tapping block to protect the edges of the boards.
Pre-Installation Procedures & Jobsite Conditions
For acclimating the hardwood flooring, the HVAC systems should be fully operational at least 14 days prior to flooring installation, maintaining a consistent room temperature between 60°F – 80°F and relative humidity between 35% – 55% R. H. This not only stabilizes the building's interior environment, but also is essential when acclimating hardwood flooring to the job site.
Hardwood flooring should be handled and unloaded with care and stored within the environmentally controlled site. Flooring stored should be laid flat, not upright and if you have concrete subfloors they should be elevated at least four inches to allow air circulation under cartons. Leave hardwood flooring in closed cartons for as long as necessary to fully acclimate to site conditions. Typical applications require at least a 48 hours acclimation period in their packaging, laying flat as opposed to upright.
Room Preparation
Remove existing baseboards and thresholds and undercut doorjambs, using a piece of flooring material as a guide. Door frames and other wooden elements should be sawed off at the bottom in order to be able to push the planks under them.
Pre-Installation Inspection
It is the responsibility of the installer to inspect each board for visible defects before installation of the flooring. If the defective board has been installed, no cost of labor will be paid for repair or replacement of defect.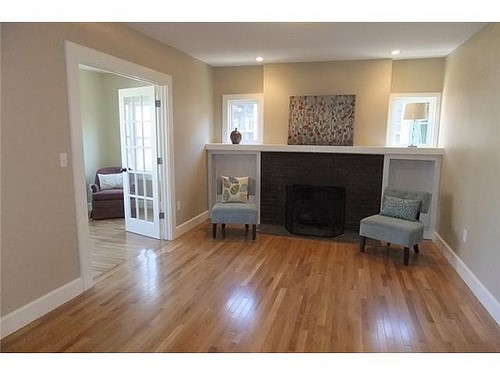 Getting Started
Know Your Subfloor Type
Engineered flooring can typically be installed over the following subfloors if properly prepared. Check the manufacturer's installation instructions carefully first.
Concrete: On, above or below grade installations are acceptable. Must be clean, dry and smooth within 3/16" (4.8 mm) over 10' (3.1 m). Suspended concrete must be structurally sound and a minimum of 1 ½" thick. All concrete subfloors must be tested for moisture content, especially adjacent to exterior walls and plumbing fixtures. A moisture barrier using a minimum of 6 mil poly film should be established between the ground and concrete. If unacceptable moisture levels exist, install sheet vinyl (PVC) directly to concrete slab. Follow instructions from sheet vinyl manufacturer, using a premium grade alkaline resistant adhesive and full spread application system to bond vinyl to subfloor.
Terrazzo: Should be cleaned with mineral spirits and lightly sanded/abraded prior to spreading the adhesive. Allow the mineral spirits to dry prior to spreading the adhesive.
Ceramic Tile: Tiles must be securely fastened to the subfloor. If grout lines are too deep they need to be filled. If using glue-down installation, surface should be roughed up with a sander or grinder and cleaned to remove all dust. If grout lines are too deep they need to be filled.
Wood Type Subfloors:

Plywood: minimum 5/8" thick with maximum spacing 16" on center joist construction or ¾" thick with maximum 19.2" on center joist construction.
OSB: minimum thickness 23/32" OSB with maximum spacing 19.2" on center joist construction.
Particle Board: Floating installation is only permitted. Squeaks and popping areas should be repaired prior to flooring installation on all wood subfloors.

Vinyl: Includes sheet and vinyl tile. Vinyl must be securely fastened to the subfloor with full spread adhesive. Loose laid or perimeter glued sheet vinyl must be removed. Do not install over more than one layer that is thicker than 1/8". Glue-down installation is not recommended since light sanding would be required and existing vinyl may contain asbestos fibers that are not identifiable. Inhaling asbestos dust is extremely hazardous to your health. Ensure the proper care is taken for removal of this product as well.
Subfloor Preparation
All subfloors must be clean and free of wax, paint, oil, curing compounds, drywall mud, urethane, debris or any materials that may affect the installation of the flooring.
Subfloors should be fl at within 3/16" (4.8 mm) over 10' (3.1 m). If subfloor prep work is required, "hills" should be sanded down and "valleys" filled with an underlayment patch, developed by a reputable manufacturer for use with hardwood flooring. Do not sand sub-surfaces such as vinyl or synthetic tiles that may contain asbestos. For small depressions, less that 1/4" (6.35 mm), it is possible to use dry sand as a leveler.
Subfloors must be structurally sound prior to installation. Screw loose areas to reduce squeaking and replace water damaged or delaminated sub-flooring or underlayments.
It is recommended to moisture test your subfloor prior to installation. Wood subfloor moisture content should not exceed 13% and the moisture content of the wood should be within 4% of the subfloor moisture content. Concrete subfloor tested with a calcium chloride test should not be greater than 3 lbs per 1000 sq ft of area. If over 3 lbs per 1000 sq ft, a high quality moisture barrier system is required and if it is over 7 lbs per 1000 sq ft then you should NOT install the flooring. The concrete must be cured a minimum of 30 days prior to testing. Do NOT install the flooring if these limits are exceeded.
Don't Forget the Moisture Barrier
All concrete subfloors must be tested for moisture content, especially adjacent to exterior walls and plumbing fixtures. A moisture barrier using a minimum of 6 mil poly fi lm should be established between the ground and concrete. If unacceptable moisture levels exist, install sheet vinyl (PVC) directly to concrete slab. Follow instructions from sheet vinyl manufacturer, using a premium grade alkaline resistant adhesive and full spread application system to bond vinyl to subfloor.
Set Up
In order to have suffi cient material at hand, calculate area and add 5% of material to allow cutting waste and for minor natural or manufacturers defects.
Work out of several cartons at the same time to ensure color and shade mix.
Layout
Layout should be designed to save labor and materials, as well as to enhance the appearance of the floor. The floor will be stronger and more stable if you lay it so that the joints in the rows are staggered at least 8" (203.2 mm). Staggered or irregular joints mean less material waste and a better overall appearance.
Plan the layout so that the last row of flooring (which usually needs to be cut lengthwise) is not too narrow. In some cases, it may be necessary to cut the first row as well as the last row.
Allow 3/8" (9.5 mm) expansion space along all walls. Flooring should be laid at right angle to the floor joist and, if possible, in the direction of the longest dimension of the room.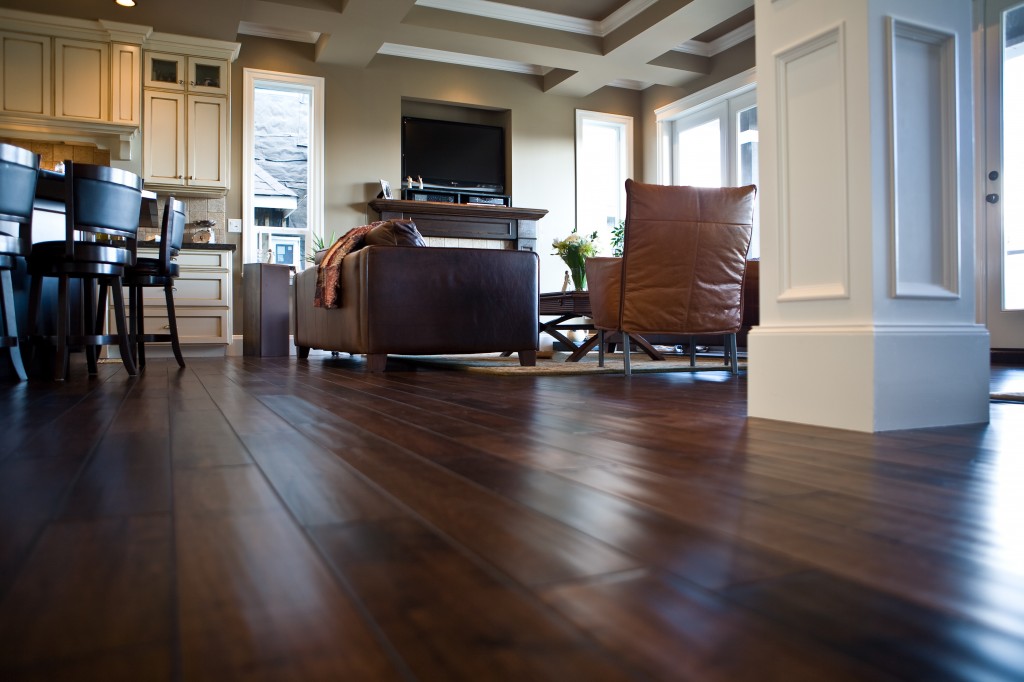 Glue-Seam Floating Installation
Install the Underlayment Pad
Install 6 mil Polyethylene vapor barrier over entire flooring surface. Overlap sheets of Polyethylene 16" and tape together creating an airtight seal. Using 1/8" (3.2 mm) foam padding, roll out one roll at a time over vapor barrier being careful not to poke holes or otherwise damage material during installation. Run padding up walls 1" to 1.5" (25.4 mm to 38.1 mm) and secure in place with tape. Join padding sections with tape strip and tape down any additional loose edges. A "2-in-1" foam padding /moisture barrier may be substituted for two separate products listed above. Ensure it is a minimum 3mm to a maximum of 7mm in thickness.
Installing the Boards
Boards are installed left to right with the groove side facing the wall. A stair-step pattern will be repeated throughout installation. Stagger the ends of the boards a minimum of 8" (203.2 mm). Leave a minimum 3/8" (9.5 mm) expansion around all vertical objects such as walls, poles, and stairs. If starting wall is uneven, trace the contour of wall, using a scriber, onto first row of planks and cut to size.
Application of Adhesive
To secure a durable wood floor the boards must be bonded with adhesive in the tongue and groove. We recommend waterproof PVA glue (Titebond II Premium Wood Glue or Elmer's Probond Interior/Exterior glues are recommended) The glue must be applied in a continuous 1/8" (3.2 mm) bead on the inside top of the groove on both the long and short edges.
Dry fit first row using stair-step pattern. Number each plank in the order of installation. When you reach the last plank in first row, turn plank 180° so tongue is flush against tongue of previous plank. Mark the plank and cut to length. Dry fit final plank of row. Begin dry fitting second row, starting with (if possible) left over piece from previous row. Be sure to stagger end of boards at least 10" (254 mm) to achieve effective stair step pattern.
Floating installation is completed by gluing and taping flooring profiles together. Separate first two rows noting installation order. Holding the first board with the tongue resting in the palm of your hand, apply a thin bead of glue in the groove on the side and end of the board. Repeat process with subsequent planks. Press each board firmly together, tapping profiles lightly with a block and hammer if necessary.
Clean excess glue from between boards with a damp cloth. Tape each board together at side and end seams using 3M Blue Tape. Often the last row will not end with a full plank. When this happens, place a full row of planks on top of the last row installed. Insert a 3/8" (9.5 mm) spacer against wall, and using a full width plank, trace distance from wall onto final row. Cut planks for final row to designated width. Apply glue and fit into place. Tape may be removed within one hour. Allow 12 hours before placing furniture on floors and 24 hours before introducing heavy objects or full traffic.
Note: Do not install cabinets or walls on top of floating floors.
Installation Over Radiant Heat (Floating Installation Only)
Important Note: Not all engineered floors are supported for installation with Radiant Heat systems. Check with the manufacturer's installation instructions first!
Heating System maximum allowable temperature is 80°F (26°C).
The subfloor should be completely dry and cured for a minimum of 4 weeks prior to operation of radiant system.
System should run at normal temperature (typically 2/3 maximum output) for a minimum of 21 days prior to floor installation to further allow moisture from concrete to dissipate and reach final moisture content reading.
The heating system must be turned off 24 hours prior to installation and must remain off for 24 hours after installation.
Starting 2 days after completion of installation, gradually increase the temperature over a 7 day period to normal operating level. Never allow the floor surface temp to exceed 80°F (26°C).
Room temperature should not vary more than 15°F (9°C). Maintain 35 to 55%humidity in radiant heated rooms.
Heating pipes must be covered with 1" of concrete or be a minimum of 1/8" (3.2 mm) below bottom of plywood subfloor. Under plywood subfloors heat transfer plates or insulation must be in place.
Follow the Floating Installation Instructions previously listed. The use of a 2-in-1 underlayment is required.
Maple flooring expands and contracts more than other wood types, especially when installed over radiant heating systems. You should allow for larger expansion gap than other wood species – minimum ¾" – around all vertical objects such as walls, poles, and stairs expansion. Such gaps are not manufacturing defects. Take the above into consideration when choosing a wood type to be installed over radiant heat.
Completing the Glue Seam Job
Remove spacer wedges after waiting a minimum of 12 hours after installation.
Install moldings & transition pieces, covering all expansion gaps along walls and vertical protrusions.
Clean, sweep and vacuum installed flooring before use.
Use stain, filler or a putty stick to touch up pieces that may have been damaged during installation or any defective pieces that were installed.
Note: THIS IS A GUIDELINE ONLY. CAREFULLY READ THE MANUFACTURER'S INSTALLATION INSTRUCTIONS THAT COME WITH YOUR PRODUCT BEFORE BEGINNING THE INSTALLATION.