4 Excellent Below-Grade Flooring Options
In construction, grade is the term for ground level. Even when the sun is shining and rain is scarce, below-grade flooring can leach moisture from the ground in the form of vapor. Basements are notoriously damp, and during heavy rains, they can become downright wet or even flooded. The primary concern when refinishing a below-grade room is finding moisture-resistant flooring that won't degrade due to high moisture and which will dry out and survive intact if the basement floods.
Concrete floors in the basement are ideal, since concrete is inorganic and won't rot or break down. But concrete isn't exactly a warm, welcoming choice for a basement refinishing project. The good news is that there are some excellent flooring options for below-grade use. Some can be laid directly on top of a concrete slab, but others will need underlayment or a subfloor. Here, we present you with four good options for below-grade flooring.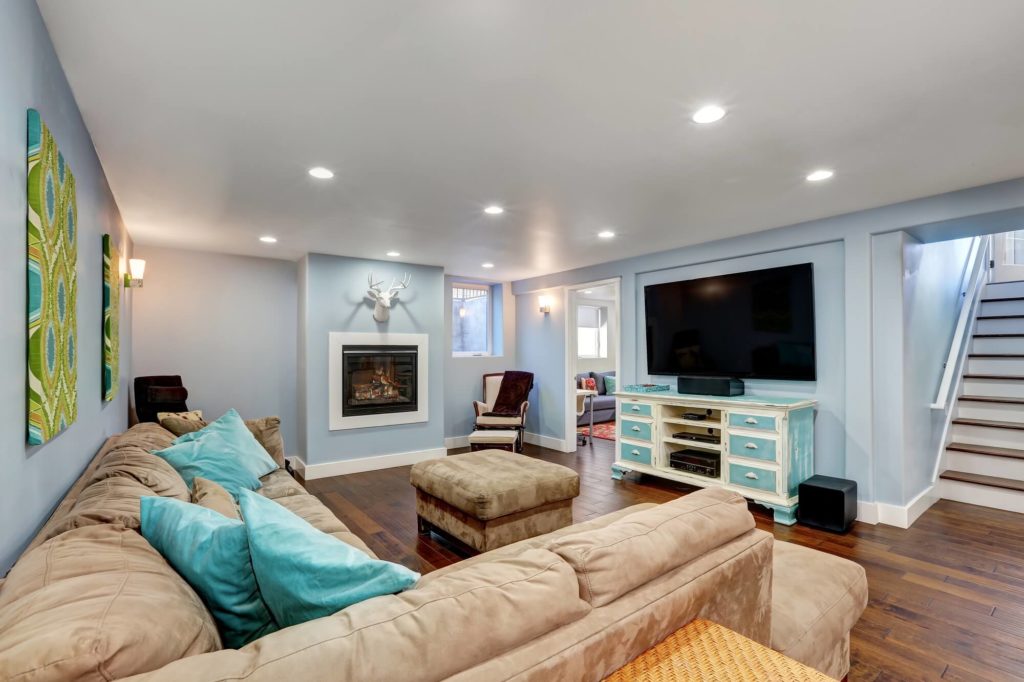 Choose the Best Below-Grade Flooring
Ceramic & Porcelain Tile
Ceramic or porcelain tile is an excellent flooring choice for the basement. It's impervious to water, and it will dry in the event you experience flooding. It won't rot, mold, or mildew.
A major benefit of ceramic or porcelain tile floors in the basement is that you don't need an underlayment or subfloor beneath them. You can lay the tile directly over the concrete, as long as the slab is clean and level. If it's not level, a leveling compound can be used to create a smooth, even surface for the tile, which helps prevent it from breaking.
Tile is extremely versatile. For a below-grade family room, you can choose large, rectangular tiles that closely resemble wood, or opt for a fun checkerboard pattern using colorful square tiles. Shiny, white tile in the laundry room keeps things looking clean and bright. Stone tiles in a basement bar area can complement rustic or modern decor.
In some northern locations, where winters get mightily cold, tile floors can be freezing underfoot for half of the year. However, radiant heating can be laid beneath the tile, keeping your toes toasty all winter long.
Tile doesn't have great sound absorption qualities, but with ample furniture and a few rugs, that's a problem that's easily fixed.
Vinyl Planks
Vinyl is not waterproof, but it's pretty close, making it a good choice for below-grade flooring. Next to tile, it's your best choice in terms of water-impervious flooring. Vinyl plank flooring snaps together as a floating floor, and they're easy for DIYers to install.
Vinyl planks come in a huge variety of designs and textures. Popular designs include hardwood and stone, which look very realistic, thanks to advanced printing technology. Vinyl planks have a thicker wear layer than vinyl sheet and tile flooring and are therefore warmer and more durable. This makes them ideal for a basement rental suite.
Laminate Flooring
Laminate flooring has come a long way in the past few decades. Improvements in a range of technologies have enabled highly realistic images to be printed on laminate flooring, closely mimicking wood, tile, and other surfaces.
Laminate flooring in a below-grade space needs a proper subfloor, which sits above the concrete and provides a raised surface to lay the laminate on. That's because the base material of the laminate can be damaged with prolonged contact with water, and the top layers may begin to peel if they sit in a couple of inches of water during a flood.
Some varieties of laminate flooring are constructed and treated to be more water resistant. These make a good choice for below-grade flooring and don't necessarily require a subfloor. However, the concrete slab should be level and in good condition, and an underlayment is necessary to block moisture between the slab and the floor.
Some laminate floor planks have a foam underlayment built in, which insulates the floor against the cold subfloor and precludes the need for additional underlayment.
Although laminate offers a realistic interpretation of other flooring types, its recurring patterns and slightly hollow feel underfoot remind you that it's not real wood or stone. However, it's a cost-effective and attractive option for the basement. Installing laminate flooring is an easy DIY project. Depending on your floor and your skill level, however, you may need a professional to construct a subfloor.
Engineered Hardwood Planks
If you love the look of wood but don't want cold, hard tiles or the hollow feeling of laminate in the basement, you still have options.
Until recently, hardwood floors weren't recommended for below-grade use. Because solid wood swells and contracts with changes in temperature and humidity, it cracks and warps over time. But then came engineered wood floors, which are constructed of a thin veneer of solid wood laminated over a stone plastic core. This is far more dimensionally stable than a hardwood plank, so it can withstand fluctuations in humidity and temperature.
You install engineered planks as a floating floor, which snaps together and doesn't require nails or adhesive. An underlayment is used to create a moisture barrier between the concrete and the engineered planks. Commonly used underlayments include polyethylene or polypropylene foam sheets, but always use the type of underlayment recommended by the manufacturer.
Radiant Heating Sweetens the Deal
Radiant floor heating systems work by circulating heated water or an anti-freeze mixture through tubes beneath the finished floor. Some radiant systems consist of electric cables, although these are typically more expensive to operate. The heat radiates upwards from under the floor, warming the room evenly and effectively.
Radiant heating is now widely used below grade, thanks to advances in technology. A radiant floor heating system in the basement reduces energy costs associated with heating the space, and it can improve the resale value of your home. Radiant heating is quiet, and it eliminates air currents associated with forced-air heating.
Several different types of radiant floor heating systems are available for the basement, and which is best for you depends on a number of factors. Above-floor systems are installed on top of the concrete slab and below the finished flooring. Below-floor systems are installed under a subfloor. In new constructions, the radiant heating system can be installed beneath the concrete.
Whether your basement spaces include a home gym, a guest bedroom, a game room, or a home office, there's an ideal flooring for your below-grade living area. Be sure to prepare your floor properly, and follow the manufacturer's directions for preparation and installation. The result will be a beautiful, durable, and moisture-resistant floor for your basement rooms.