Choosing the Best Laminate Flooring Underlay
Laminate flooring is durable and designed to last, making it a smart choice for high-traffic spaces like your kitchen, bathrooms and even utility areas like the mud room. Cost-effective and available in a range of options from wood-style boards to classic tile designs, you don't have to give up the look you want to get easy-to-clean and care for laminate flooring for living rooms, dens and family rooms anymore either.
Understanding laminate flooring underlay can seem tricky, but a little information goes a long way toward choosing the right material. Use this guide to ensure that the laminate flooring you pick for your home looks and feels spectacular for years to come.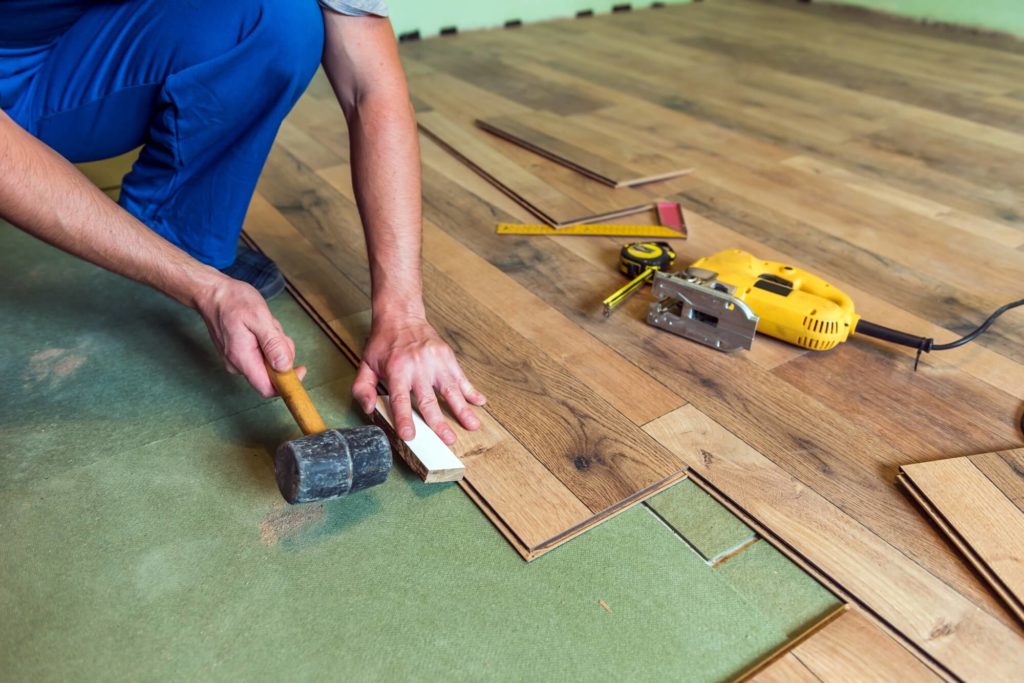 What is Laminate Flooring Underlay?
Laminate flooring underlay, often referred to as underlayment, is a thin sheet of material installed on top of your subfloor. This material is installed to act as a durable base for your top layer of laminate.
During the installation process, your laminate flooring underlay will be installed before the flooring material you have chosen for your project.
Why Do I Need It?
Properly chosen laminate flooring underlay is useful for a variety of reasons. First, underlay provides proper protection for your laminate by providing proper support. This cushioning also helps to even out your floor, helping to create a solid foundation for your laminate material.
Underlayment also impacts sound transmission, which can be particularly important when you're installing laminate in an upstairs room in a residential space. The laminate flooring underlay you chose also affects the R-value of the overall flooring installation.
Know Your Subfloor
Choosing the correct laminate flooring underlay material often starts with evaluating your subfloor. That's because different subfloor types have different potential issues that proper underlayment can help address.
Here are the two most common types of subfloor you'll encounter in your home:
Concrete
Concrete subfloors are strong and sturdy, but because they are porous, moisture issues are a big concern. This is particularly true in older homes. With this type of subfloor, you want underlayment that forms a solid barrier between moisture and your laminate flooring material.
Plywood
Plywood is a natural material that is slightly porous. However, because plywood is all-natural, it needs more air exposure than concrete. With a plywood subfloor, some underlayment options with a vapor barrier can cause moisture to be trapped in the plywood. If this happens, your subfloor could mold, rot or become unstable over time.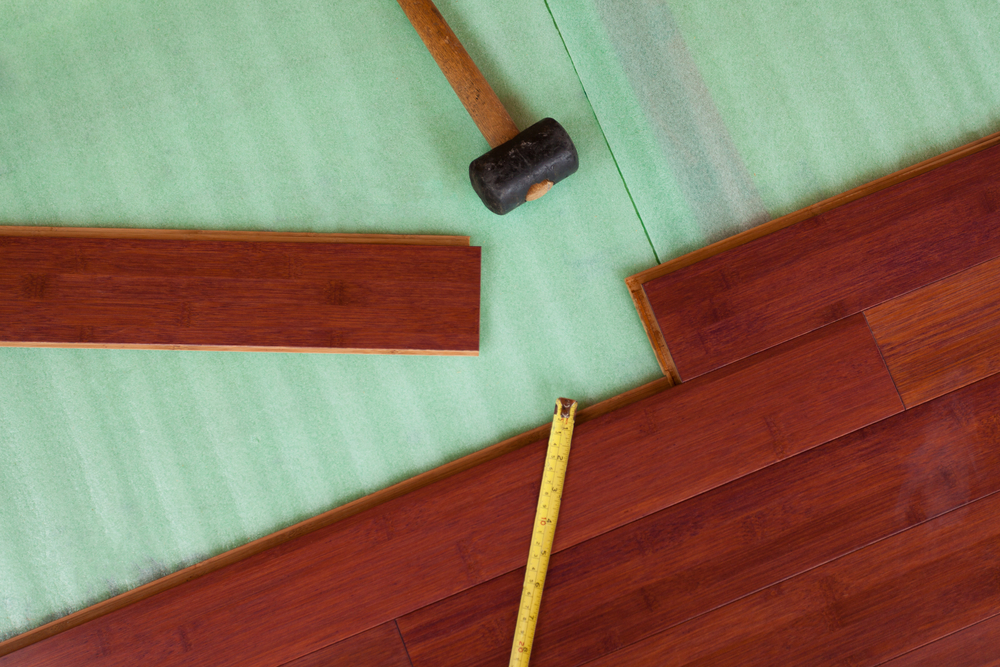 Laminate Flooring Underlay Types
Choosing the right type of laminate flooring underlay can be a bit confusing when you're taking on a home build or renovation. Knowing about the four standard types can help you pick the right option for your room.
Here's a quick guide to the four most common types of laminate flooring underlay material:
Basic Foam Underlayment
Ideal for plywood subfloors, basic foam underlayment is typically made of polyethylene or polypropylene material. This material does not have a vapor barrier layer, making it ideal for plywood subfloors that need to breathe. It's also a very cost-effective option.
Combination-Style Underlayment Options
Combination-style underlayment includes both a foam layer and a water vapor barrier layer. Use this style of underlayment if you have a concrete subfloor. Note that some combination-style underlayment can be used in any room, even if you have a plywood subfloor. However, it is slightly more expensive, and may not be required when working with plywood.
Cork Underlayment
Cork is sometimes used as an underlayment material for laminate flooring. However, the cost is significantly higher. Avoid cork underlayment to reduce costs unless noise reduction or antimicrobial properties are a major concern for your project. Cork may also be a poor choice for wet rooms unless additional layer of plastic is installed.
Felt
Some installers consider felt to be the best option for underlayment. Heavier and easier to work with, it is soft underfoot while providing excellent noise reduction and heat retention. Felt has few drawbacks other than cost, though it may not be as effective at fighting moisture in wet spaces like a full bathroom.
Pro Tip
Carpet padding often comes up when underlayment is discussed. While it works well for carpet flooring material, it is too heavy and thick for laminate. Using carpet padding as laminate flooring underlay may lead to loose floor joints that you feel as you walk over time.
Choosing Your Underlayment: Special Considerations
Still not sure which underlayment style is ideal for your project? Here are a few special considerations to keep in mind:
•  You live in a cold climate. R-value matters in cold climates. Combination-style underlayment, felt and cork all aid in heat loss reduction.
•  You're installing laminate in a wet room. Mud rooms, bathrooms and kitchens are all considered wet spaces. In these rooms, you need underlayment with a water vapor barrier. Combination-style underlayment is typically the best choice for these areas.
•  You want more noise reduction. Cork and felt are ideal choices when you need more noise reduction if they work for your subfloor, project and budget.
If you choose to use laminate flooring in multiple rooms, you can mix and match your underlayment material as well. Doing this can help you get the right material for your subfloor, room type and any special considerations required for your project.
Consider Laminate Flooring with Included Underlayment
On today's market, you can find laminate flooring with pre-installed underlayment. This type of laminate typically works well in homes with plywood and concrete subfloors. It can also take the guesswork out of choosing underlayment, though you may pay a bit extra for this all-in-one style flooring.
Note that wet rooms like bathrooms and kitchens may require laminate flooring with included underlayment specifically designed for maximum moisture protection. Check with the manufacturer or reach out to one of our representatives if you're considering all-in-one laminate material for a wet space.
Looking to learn more about laminate flooring underlay and the general process of installing this ultra-durable material in your home? Check out our informative blog post to see what questions you should ask when considering laminate flooring for your house.
Our qualified representatives are also here to answer all of your flooring-related questions. Don't hesitate to reach out when you need a little help with your building or renovation project.