Vinyl vs. Laminate Flooring with Pets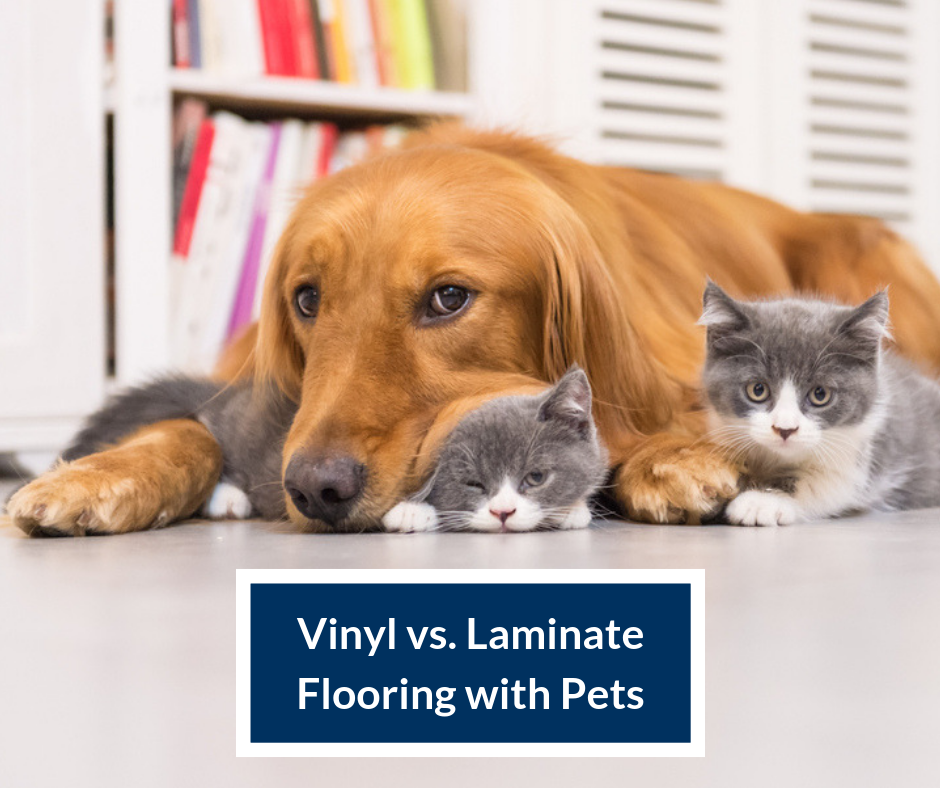 Your pets are part of the family. Keep your home looking great year after year by choosing a flooring with pets in mind. You certainly want to choose something designed to hold up to the fur and claws and everything else that comes along with your furry family. Before you decide on the right flooring for you home you need to consider the overall design of the space. This and room use will ensure you select a product designed to meet the needs of the space while enhancing the overall style.
Hardwood flooring is beautiful, but it is also costly and prone to pet damage. The natural wood scratches easily and does not hold up to any moisture, making small accidents enough to create lasting damage. Luxury vinyl flooring and laminate flooring both provide the look of hardwood at a fraction of the cost. These man-made alternatives come in the same fashionable colors and textures you look for in the real thing. The best way to determine which one is best for a space is to take a closer look at each one and compare their benefits and drawbacks.
Maintaining Vinyl Flooring with Pets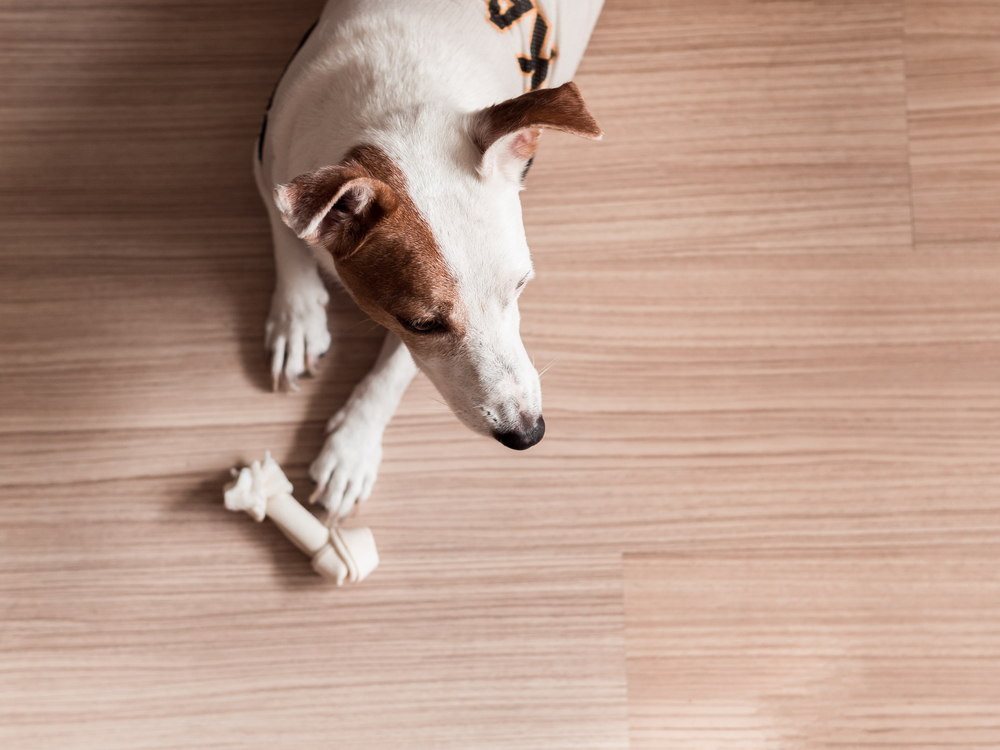 Luxury vinyl flooring is manufactured to look just like hardwood flooring or ceramic tiles. This makes it an ideal choice for any style of home. Vinyl plank flooring is affordable, waterproof, and incredibly durable. The design is so resistant to moisture, that it has become a go-to choice for flooring in kitchens, bathrooms, basements, and homes with pets or children. Spilled water dishes and the occasional accidents are easy to clean without a trace of damage when you install luxury vinyl planks or tiles in your home.
Prevent Scratches
Although overall very durable, vinyl flooring is susceptible to scratches over time. One of the best ways to keep vinyl scratch-free is to clean it regularly with a hard-floor-approved vacuum and mop. Remove dirt and grime to prevent those items from scratching the surface of the floor while pushed across it with a broom. If there is an area that is particularly high-traffic, such as the front door, lay down an area rug with a mat beneath that helps prevent shifting.
Restore Shine
Like with any flooring, vinyl floors have the tendency to dull over time. You should not expose vinyl floors to wax or solvents. Instead, use a lamb's wool bonnet on a mechanical buffer every once in a while, when it is necessary.

Maintaining Laminate Flooring with Pets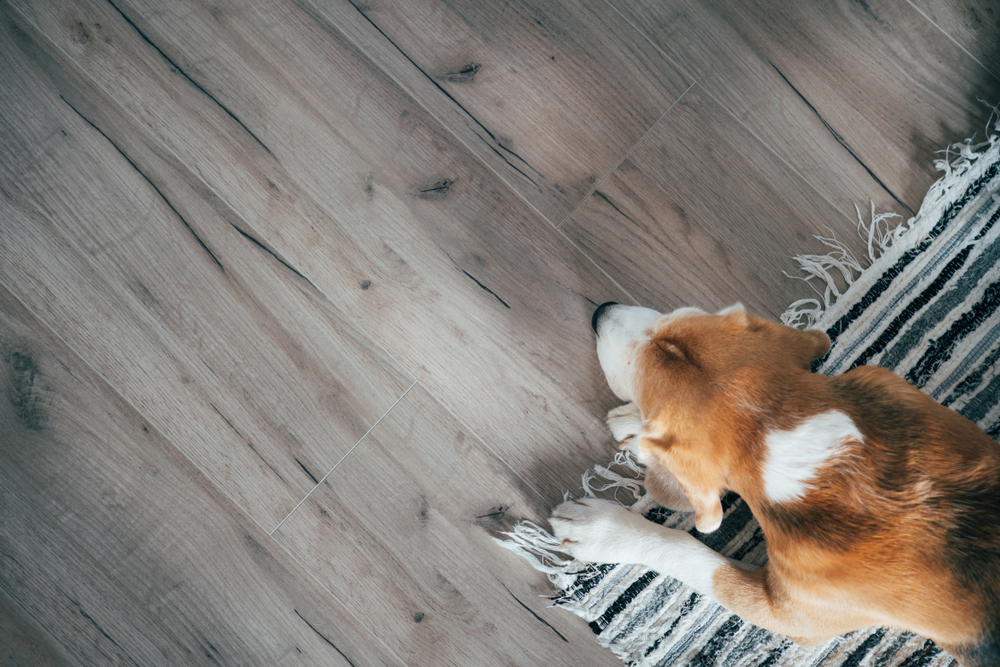 Laminate flooring is manufactured to provide the look of hardwood at a fraction of the cost. Unlike vinyl, laminate flooring is not fully waterproof. If there are accidents or water bowl spills, clean the mess promptly to avoid damaging the floor or causing the material to swell. Most laminate flooring is not well suited for pets. However, a few styles of laminate floors are specifically designed to accommodate the needs of pets. Putting a waterproof mat beneath the pet's litter box or water bowls will help prevent moisture damage.
Improve Traction
Most laminate floors are smooth in finish. Their smooth, slick finish can cause pets to slip, especially if they run across the floors. If traction is a problem, adding area rugs with a rug pad underneath can help to soften the floor and provide sure footing for your pets. Choosing a laminate floor with a more matte or distressed finish will also help to improve traction for your pets.
Prevent & Treat Scratches
Laminate flooring features a veneer on top of bottom layers that provides the look of wood. Help to prevent deep scratches that reveal the bottom layers by selecting a laminate floor product that offers a thicker veneer. This means you can buff out small scratches with a light sanding without damaging the look of the floors. Work with a small-grit sand paper in light passes until you buff the scratch out.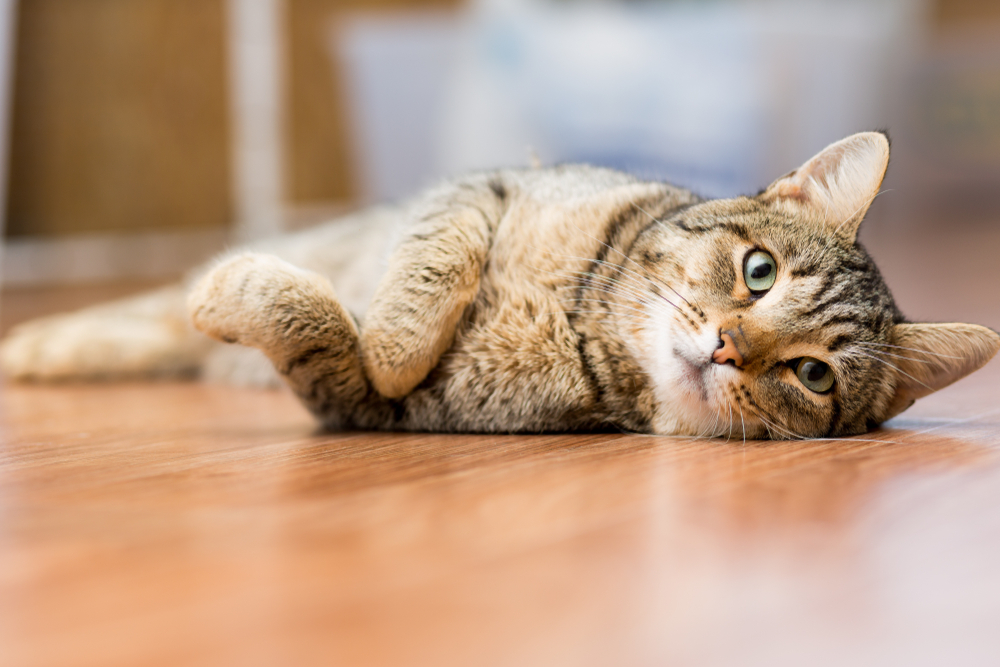 Keeping Flooring Clean with Pets
A life with pets means hair and dirt on your hard floors. Keeping your laminate or vinyl floors looking great for many years to come requires regular cleaning. A vacuum designed for use on hard floors will help to remove dry debris and pet hairs from the floor every day or two. Once a week, mop the floor to provide a deeper clean. Make sure to use a product designed for the type of floors you install.
Pets can bring an incredible joy to a home, but they also bring a few basic requirements. Ease of cleaning, chances for scratches, traction, and moisture damage are all considerations in choosing the best flooring for homes with pets. Both laminate and luxury vinyl flooring are great choices but if the pet is prone to accidents, luxury vinyl is the way to go. No matter which option you select, make sure to look at the specifications of the product and choose the most durable option.