Kitchen Flooring: Vinyl or Laminate?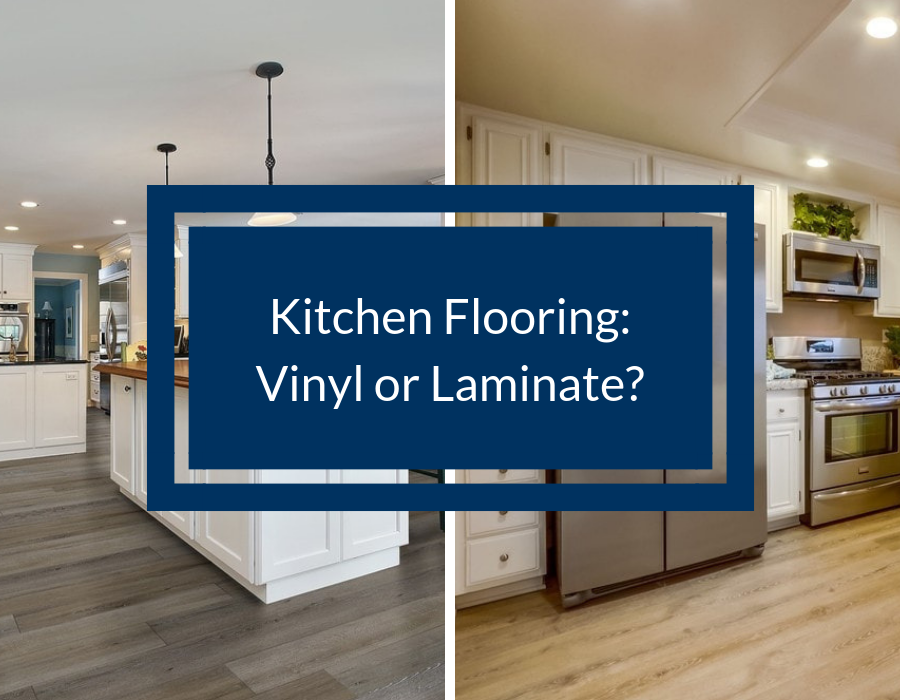 The kitchen is one of the most-used rooms of the home and as such, it needs kitchen flooring designed to hold up to the daily wear and tear of life. Grease splatters, spilled food, and melting ice cubes are just a few of the daily occurrences the floors need to hold up to. When trying to decide whether to install vinyl plank flooring or laminate flooring in the kitchen, it is essential to understand the pros and cons of each option.
Kitchen Flooring: Vinyl Plank
Vinyl plank flooring provides the look of hardwood but the durability you need to use it in high-traffic areas of the home, such as the kitchen.
Cleanliness
Vinyl flooring is easy to keep clean with a simple mop or a steam mop. Because it is waterproof, you don't need to worry about using water to clean vinyl flooring. Vacuum the floor with a vacuum intended for hard floor surfaces between cleanings for light touch-ups.
Maintenance
One of the best aspects of vinyl flooring is how low maintenance they are. There is no need to ever wax or polish vinyl flooring, as you would with traditional hardwood flooring.
Pet-Friendly
The waterproof and scratch-resistant qualities of vinyl plank flooring makes it a great choice for homes with pets. Not only will it hold up to the claws and activity of your dogs or cats, but it is also incredibly easy to clean up any messes that occur.
Durability
Vinyl plank flooring is desired for its long-lasting durability. Although it generally holds up to daily wear and tear without signs of damage, it can be scratched or dented if heavy furniture or appliances are dragged across the surface. Vinyl flooring offers the added benefit of being completely waterproof, which means there's no fear of damage caused by spilled water from the refrigerator or dishwasher.
Sizes
Vinyl plank flooring comes in two standard widths. The 4-inch width provides a more traditional look while the wider 8-inch widths are a great choice for larger spaces. Each plank measures 48 inches long. All it takes is a metal straight edge and a razor knife to cut the planks down to size for installation.
Installation
Vinyl plank flooring is incredibly easy to install. In fact, all that you need to cut the product down to size is a sharp utility knife and a metal straight edge. This product comes in two installation types. Floating vinyl floors offer a tongue and groove design that allows them to click together with a few strikes of a rubber mallet. Some vinyl floors are even peel-and-stick in nature, eliminating the need for clicking various pieces together. The peel-and-stick variety can even be used to create an eye-catching accent wall or stand-out ceiling.
Kitchen Flooring: Laminate
Like vinyl planks, laminate flooring provides the look of hardwood at a fraction of the cost. This durable alternative may provide the same overall look but there are some distinct differences between vinyl and laminate flooring.
Cleanliness
A simple steam mop is all it takes to clean laminate floors but don't reach for a traditional mop and bucket. The amount of water applied by a traditional mop is likely to damage the floors.
Maintenance
Over time, laminate flooring can lose its original luster. Restore the like-new look to your laminate floors by using floor cleaners specifically designed for the product. There are also some laminate products available that can help to reduce the look of chips and scratches that may occur.
Durability
Laminate flooring is designed for durability but it does tend to show signs of wear over time, especially in high-traffic areas of the home. You can expect to see light scratches and chips or damage along the edges and corners. Unlike vinyl, laminate flooring is not waterproof and any standing water could cause the planks to bubble or warp.
Pet-Friendly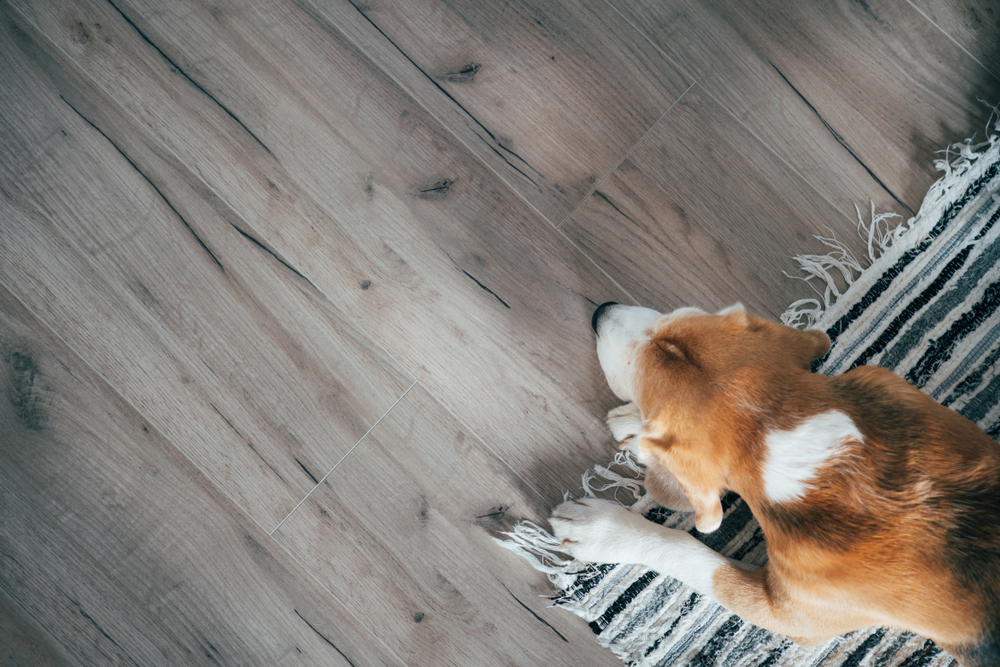 Laminate is considered a very pet-friendly product as long as the pet is house broken. Any standing accidents are likely to cause damage because laminate is not waterproof. Prevent scratches by making sure to trim the nails of your pets regularly.
Sizes
This flooring option comes in a wide variety of widths from which to choose, starting at a traditional 4 inches and extending to an incredibly wide 16 inches. They arrive in your choice of 36-inch or 48-inh lengths.
Installation
Laminate floor is designed as a floating floor. The tongue and groove design makes it easy to click each piece into place. When installing this product, use a circular saw or hand saw to ensure precise cuts without damaging the flooring.
Protect New Floors with Area Rugs and Orthopedic Mats
Much of the time spent in the kitchen is spent standing at the stove and the sink. Protect the floors from spills and splatters by adding cushioned mats to these key areas. Not only are they softer on the knees, but they will also help to prevent your floors from fading or becoming stained in these areas.
With so many different vinyl plank and laminate flooring options available at Build Direct, it is easy to find a color, size, and style that speaks to the overall design of your kitchen. Keep the look cohesive and make an open concept home appear larger by extending the flooring you choose to the surrounding rooms as well. If you choose vinyl plank flooring, it can even be extended to bathrooms and laundry rooms. Both products can be installed as a weekend warrior project or passed off to the professionals. No matter which one you choose, you'll have a luxurious floor that provides the look of hardwood while holding up to hundreds of meals cooked.