How to Clean Kitchen Floors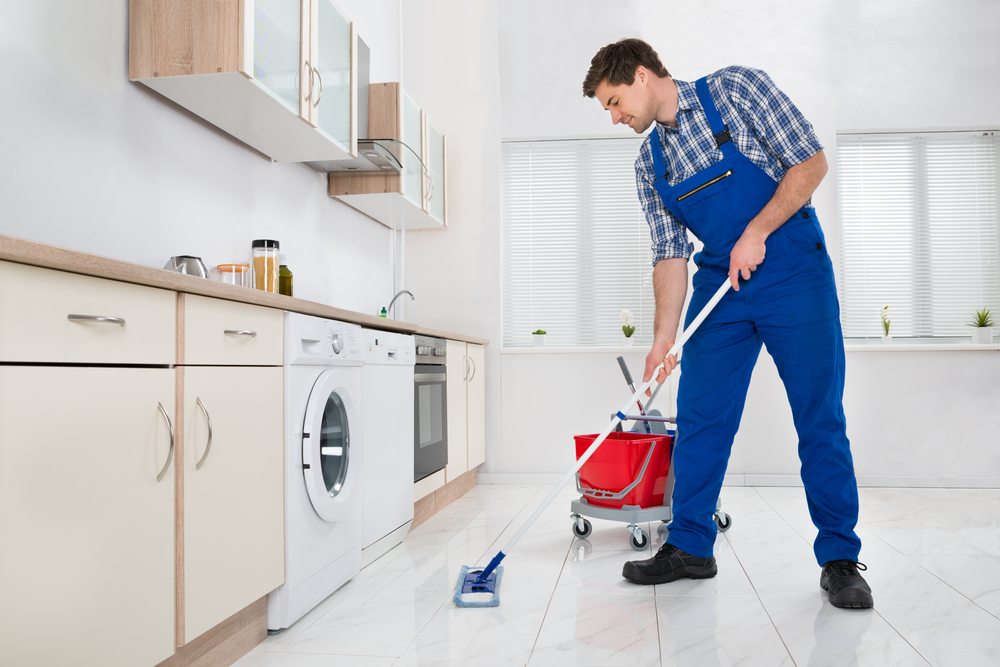 No matter what material your kitchen floor is made of–from vinyl to laminate to tile–it's bound to get dirty. Kitchens are high-traffic areas, so they're bound to experience considerable wear and tear. Since this is where the cooking is done, it's also where spills will occur, meaning the floor will get dirty quite frequently. If you're deep cleaning or only have a few minutes to spruce things up, cleaning your kitchen floor may be more simple than you think. Depending on your type of floor, the cleaning will vary. Here's how to clean four different types of kitchen flooring.
1. Cleaning vinyl floors
One of the most popular kitchen flooring materials is vinyl, and for good reason. Vinyl flooring is extremely water resistant against those inevitable spills or leaks. It's durable too, able to resist dents, scuffs and stains. It's also a way to get a timeless wood or stone look for less. Despite its durability and resistance, however, vinyl can still get dirty. Here are some tips for cleaning your vinyl floors:
Step One:
Sweep or vacuum to make sure everything is picked up from the floor.
Step Two:
Mop with warm water and vinegar or a cleaner designed for vinyl flooring.
Step Three:
For those pesky spots, use a soft towel to scrub with a water and dish soap combination.
Step Four:
Make sure to towel off any moisture and allow the floors to dry completely before walking on them.
Remember: Don't use abrasive cleaners as they can damage the flooring.
2. Cleaning ceramic tile floors
Ceramic tiles make great kitchen floors because they're extremely low maintenance. These tiles are shaped and then kiln fired to create a hard-wearing surface. Ceramic tiles are resilient and durable, making them perfect for flooring in high traffic rooms. Along with being a durable surface, ceramic tiles are easy to clean. Here are some tips:
Step One:
Sweep or vacuum at least once a week to keep the floor clear of grit and debris.
Step Two:
Mop regularly with warm water and a mild cleanser to get rid of dirt and spills.
Step Three:
After mopping, allow the floor to fully dry before you get cooking again.
3. Cleaning laminate floors
Laminate flooring is an option for homeowners who want the look of real hardwood flooring in their kitchen, but don't want to worry as much about moisture damage. Laminate flooring is known to be one of the most durable and long lasting surfaces out there. However, appropriate maintenance and cleaning is necessary.
"Appropriate maintenance is necessary for a lasting floor."
Here is how you can clean your laminate floor:
Step One:
Sweep, dust or vacuum the floor regularly.
Step Two:
Damp mop floor with a vinegar and warm water solution; while damp mopping, avoid any standing fluids on the floor.
Remember: Make sure not to use a vacuum with the beater bar attached because it can scratch the surface.
4. Cleaning marble floors
Though marble is durable, it can be stained and scratched if not maintained properly. Marble is long lasting, but it requires proper care to keep its beauty:
Step One:
For a light cleaning, the best option is to use a dust mop to sweep up dirt and debris – microfiber dust mops are ideal.
Step Two:
Vacuums should be used with care because the wheels can scratch the marble surface. Don't use metal attachments.
Step Three:
For an even deeper clean, wet mop with a pH neutral soap.
Remember: Avoid harsh cleaners because acidic substances can corrode marble.
Other useful tips and tricks:
Never allow spills to sit. The quicker you clean them up, the less likely they will penetrate the floor's surface and stain.
If you're worried about liquid cleaner volume, opt for a spray bottle. That way, you can mist the solutions instead of pouring, which gives you more control.
Use floor repair products like these to take care of dings, dents and chips on hard surfaces.
Use doormats at all entrances to prevent the tracking in of dirt in the first place.
No matter what floor style you choose, if you follow hygienic practices, beauty can be low maintenance. The more consistent you are with cleaning, the longer your flooring will keep its appearance.
Do you have any tips for keeping a kitchen spotless?

Browse our selection of top quality flooring here.