The Evolution of Engineered Hardwood Flooring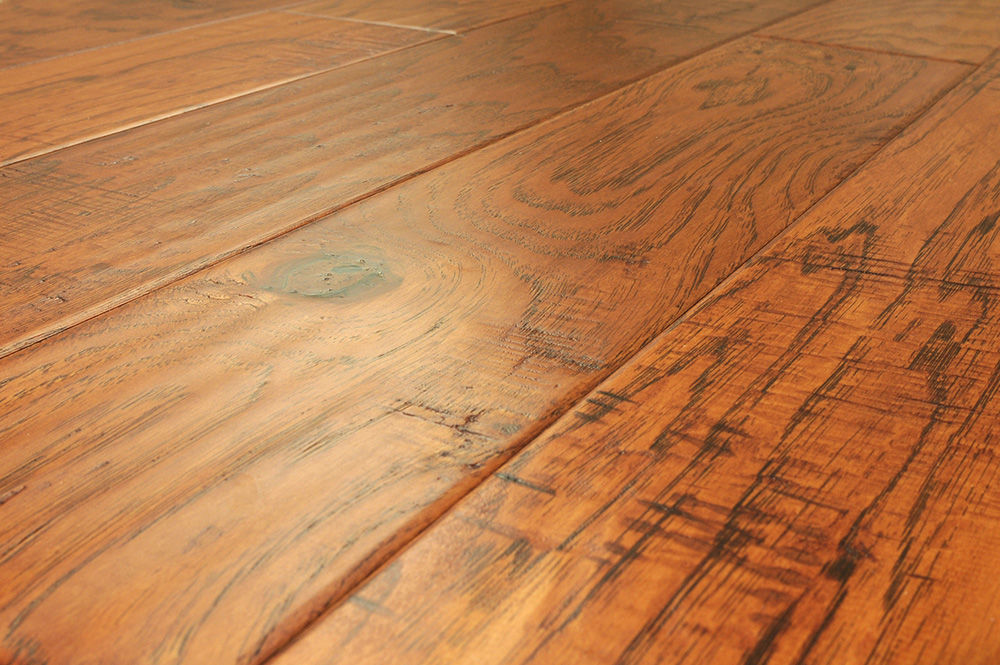 Today, engineered hardwood flooring has become more common in homes across the United States and the world. But what is engineered hardwood flooring, and how much do you really know about it? Read on and we'll help you understand this type of flooring and how it has evolved over time.
What Is Engineered Hardwood Flooring?
Exactly what is engineered hardwood made of? Engineered flooring is comprised of layers of laminated materials, commonly plywood and unfinished white wood, laid out in different directions. Cheap engineered flooring may have as little as three layers, while higher quality products may have as many as 12. These layers are topped with a hardwood veneer and pre-finished with a tough, urethane-like coating.
Engineered floorboards with a thick veneer are more water-resistant and more expensive than those with a thin layer. Those with thin veneers are much cheaper, but they can't be refinished when they show signs of wear and tear. In contrast, some thick engineered floorboards can be refinished several times.
Engineered Hardwood Flooring Beginnings
Engineered flooring was developed in the 1960s for basements and the first floors of properties built on concrete slabs. Traditional hardwood flooring was difficult to install in these areas, so manufacturers created engineering flooring to achieve a similar look without the fuss.
Since engineered flooring was used in just one application, there was little variation in the floorboards. They had a standard thickness ideally suited to this singular purpose. There were also fewer alternatives for the types of woods used and the finishes available.
Engineered Hardwood Flooring Today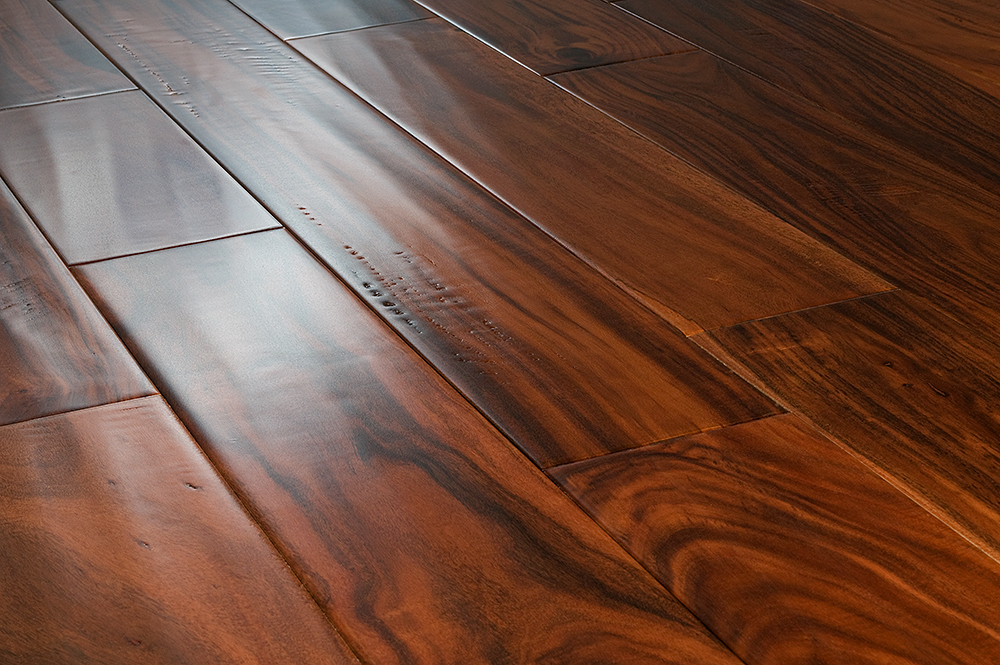 Today, engineered flooring isn't just restricted to basements and floors on top of concrete slabs. The product's popularity has exploded, and you'll find engineered hardwood floors just about anywhere, including places you wouldn't expect to find plank floors, like garages and kitchens. Engineered wooden flooring accounts for 30 percent of the wooden flooring sold in the United States today.
Originally, engineered floorboards came in a single thickness. However, engineered floorboards today typically range from three-eighths inch to three-fourths inch thick. Thicker floorboards are better quality and useful in a variety of applications, and they can be nailed over a wooden subfloor, just like you'd install a traditional plank floor.
Engineered floorboards thinner than three-fourths inch aren't quite as versatile, but they can be glued down much like a vinyl or resilient floor. While builders can do this for you, it's simple for any motivated DIYer to take on. This is a great way to save money on your flooring project.
The most modern thin engineered floorboards feature an advanced tongue-and-groove system which locks the boards into place. This design makes them easy and quick to install, saving you valuable dollars.
These engineered floors, often called floating floors, work well laid over old floors and cork underlayments. They're also ideal for laying over radiant heat systems. Engineered floorboards transfer heat more effectively than solid traditional wood floorboards. Since you can just glue them down, there's no risk of nails or staples puncturing wires or hot water tubes either. Floating floors are the easiest engineered floors for DIYers to install, although laying the boards down still takes some skill.
The different thicknesses of engineered floorboards are also ideal for bridging the transitions between rooms that many renovators struggle with while remodeling their homes. Floorboards of different thicknesses can create a smooth, even floor as you move from a wooden living room to a tiled kitchen, for example. This does away with the need for large transition strips and the effort of trimming down doors.
How to Choose Engineered Hardwood Flooring for Your Taste and Budget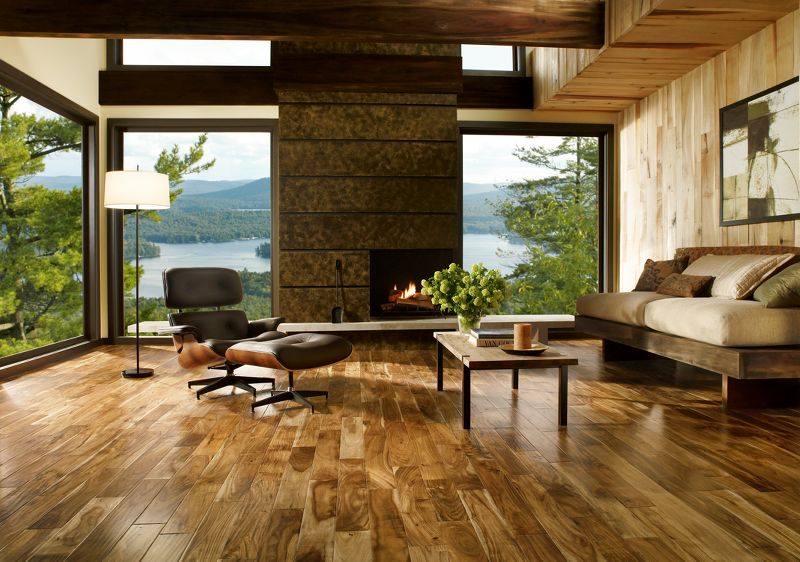 As engineered flooring has become more common, it has also become more affordable. An engineered hardwood floor costs half the price of a new hardwood floor, and the price is comparable if you plan to refinish an existing floor. You can expect to spend between $3 and $14 per square foot, depending on the engineered floorboards you use.
Of course you should consider installation as well as raw materials. This is where engineered hardwood floors really come into their own. A typical house can receive engineered hardwood floors in all rooms in just a day or so. Since these floors are often pre-finished, there may be no need to stain or coat the boards with urethane once they're down, which can cut days off the installation process. Consider the total expected cost when making your decision.
Furthermore, engineered hardwood floor manufacturers have evolved in response to a growing interest in sustainability. Manufacturers are paying greater attention to their veneer and sublayer woods and selecting products that don't deplete the world's precious resources. They may also make veneers thinner when working with exotic trees to achieve an elegant look without devastating forests. The endorsements of official bodies including the Forest Stewardship Council and Sustainable Forestry Initiative are relatively new initiatives helping to guide consumer choices.
And of course it wasn't too long ago when we had no choice regarding the look of our engineered hardwood floorboards at all. It's only recently that we've seen them made using a range of woods, including exotic woods. These allow consumers to choose engineered hardwood floorboards that suit their budget, tastes, and existing décor. Modern engineered flooring is also available in a variety of new surface effects, including a rustic hand-scraped look or a sleek, polished finish.
Contemporary engineered hardwood floor manufacturers also consider the woods they use carefully to improve the stability of their products. Certain woods are less likely to bend and cup than others. Manufacturers are constantly testing different woods to determine the best ones for their products. As technology improves, long-held misconceptions about the stability of engineered hardwood floors can be disproved.
Do you have any questions about engineered hardwood flooring? Feel free to share them in the comments section below. Click here to browse BuildDirect's wide selection of engineered hardwood products.