Wood Flooring Moldings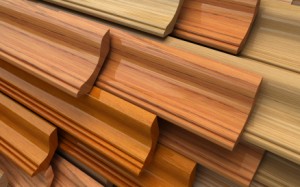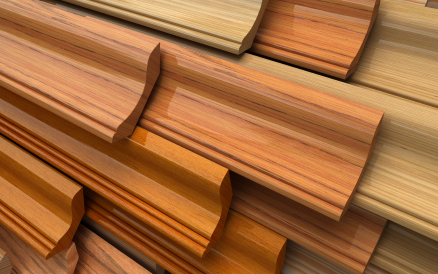 There are a lot of decisions to make when considering wood flooring, and often one of the most overlooked considerations is the trim. The purpose of molding and trim is to give the floor a professional, finished appearance, to join the floor to the walls and create seamless transitions to other rooms. Choosing the right trim and moldings is crucial to the aesthetic of the any room, whether you prefer an ornate trim or an unobtrusive low-profile molding.
Engineered wood flooring generally comes with matching trim. Traditional hardwood flooring comes with no trim. The trim you choose should closely match your flooring in grain and styling – rustic flooring should be paired with rustic trim. To create a classic Victorian look, consider wider baseboards with a carved design element. For a harmonious overall design, you may also want to consider the wood trim around doors and windows.
Different types of molding are used for each specific purpose. What you will need depends on the features of your home. Here are the basic choices and what you need to know about each:
Baseboards or Wall Base Trims
Wood floors expand and contract with the temperature and humidity of the air. As a result, space must be left around the edges of the room and things that are stationary, like kitchen cabinetry. Trim attached to the wall or the base of things built in, called baseboard or wall base, covers and hides the gap. This trim can range from an unadorned rounded-edge board to a wide, ornately carved décor statement.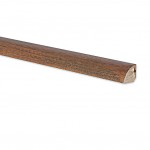 Quarter round is often used in conjunction with baseboards to add dimension to the transition between the bottom of the baseboard and the floor. It can also be used instead of baseboard as a very low profile trim.
Shoe edge molding essentially has the same purpose as quarter round molding with a smaller profile.
Transition Trims
Transition trims are used to bridge the gap between different types of flooring or to cover the threshold between rooms. Here are the different types of threshold trims and how each is used.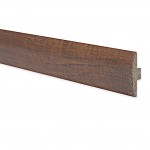 T-molding is used to cover transitions between floorings that are equal in height to create a flat threshold. It is most frequently used to transition from wood to tile floors, but may also be used between two wood floors. The top is flat and with a rounded edge and the underside has a ridge running the length that fits in the gap between the two floors.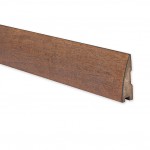 Reducer, one-sided reducer, and flush reducer are names for the same type of trim. It is typically used to create a smooth transition between a wood floor and flooring with a higher profile, like high pile carpeting.
Overlap reducers or bi-level reducers are transition moldings typically used with floating floors, transitions to carpet, and to connect floors with a lower height..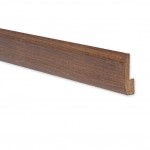 Thresholds or baby thresholds are moldings used where expansion is required. The most common use is to edge a sliding glass door, but this type of molding can also be used to transition to carpet. End cap or End moldings and square nose molding are alternate choices used for the same purpose.
Stair Trim
Overlap stair nosing, or bull nose, is typically used with floating stairs where expansion is required.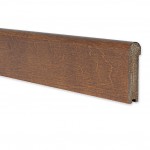 Flush, square edge stair nosing, or bull nose is edge trim used as a transition for stairs. The rounded edge fits over the edge of each step for a finished, professional look.