A Guide to Laminate Flooring Moldings
Looking for a simple way to make your new laminate floor seem like it's always been a defining feature of your room? The proper molding can make a big difference by adding a little something extra to your flooring project.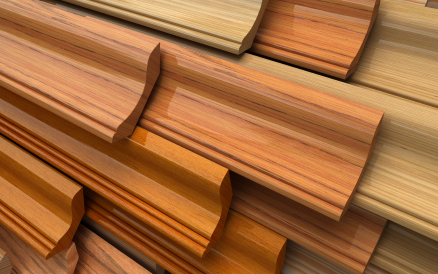 One of the most important factors to consider regarding your interior décor is the degree of integration and harmony you wish to achieve among the various areas in your home or work space. In some settings, a sense of continuity may be desired between adjacent rooms. In others, you may want sharply contrasted areas. You might wish to create the illusion that your new flooring has always been a part of the living or working space in which it is installed. Even with a limited budget, you can create striking effects with a bit of imagination, and often the best way to get the desired effect is the simplest one.
For laminate flooring, something as basic as the right style of molding can make all the difference in adding flow and continuity, as well as a sense of unity to an interior. There are several varieties of laminate flooring moldings that are available to you to help you gain these effects. But, which variety is the most appropriate for your specific space? Let's take a look at the options.
Laminate Flooring Moldings
Reducer Moldings
This type of molding is useful when applying a transition from one floor space to another where the levels are slightly different. This situation sometimes occurs when the transition is between two different flooring materials, for example from a laminate floor to a tile floor, or when the floor of the adjacent room is the same material but installed at a different level.
End Moldings
An end molding can be used as another type of transition molding, but it is more useful when the transition is to an uneven surface such as a high-pile carpet or a thicker variety of tile. An end molding may also be a better choice when your flooring butts an edge such as a sliding glass door, where a quarter round molding may be too small. With a lower profile than a reducer strip laminate molding, an end molding can add a subtle, tailored look to your interior.
T-Moldings
T-moldings are useful for doorways or between other flooring sections which are at the same level. For example, if a laminate floor is installed in a particularly long room, a T-molding could be used for tying the two sections together. The T-molding is aptly named – shaped like a "T" – with the beams of the "T" serving as a bridge from one room or flooring section to another.
Baseboard Moldings
A baseboard is a well-known finishing element to a flooring project. The baseboard molding serves as a transition from a horizontal surface (e.g. your new laminate floor) to the vertical surface of a wall. Like all types of molding, you can match it with the color of the laminate floor, or paint it to match the wall. Either way, a baseboard molding can add a subtle, almost subliminal effect to the appearance of your room.
Base Shoe Moldings
This type of molding appears as a standard baseboard molding with a shallower profile. The base shoe molding is useful when trying to preserve the look of an existing baseboard while at the same time offering the advantages of its lower profile. The "shoe" portion of the molding is a rounded lip that helps to preserve the face of the baseboard from everyday wear, specifically when you vacuum your laminate floor.
Quarter Round Moldings
Used in the same way as a base shoe molding, the quarter round molding butts against your wall with a low, rounded exterior profile that adds a simple, yet tidy touch to your completed laminate flooring installation. This type of molding is often used behind cabinets where a low profile molding is better suited to support an object flush against the wall.
Stairnose Moldings
For making a transition from your floor to the edge of a flight of stairs or steps, a stairnose molding is a great solution. The molding sits flat and level on one side with your laminate flooring and closely hugs the first stair or step on the other side, rounding off the edge of the stair and adding a unique finishing touch to your completed laminate flooring project.
Something as simple as a molding can really make all the difference to the overall effect of your new laminate flooring project. Putting in laminate flooring moldings is often an afterthought to some, but the finished visual effect it creates is more often than not the defining feature of the completed project.