Making Laminate Wood Floors Shine
When you know how to make laminate wood floors shine, they become a gleaming part of your home design. This popular flooring material is made to resemble the look of natural wood but comes in at a fraction of the price. Learning how to care for laminate floors in the beginning and taking advantage of a few simple maintenance tips will help to keep them looking their best.
Benefits of Laminate Floors
Laminate floors are a man-made material that features a decorative top layer designed to look like hardwood but remaining much more budget-friendly. Because it is man-made, laminate flooring comes in a full range of color and style options, making it easy to find the ideal fit for any style of interior decor. You can even get laminate floors designed to look like cherry, tigerwood, or oak. Choose a wide flooring option for larger space or select a narrow board collection that will provide that historic look of hardwood floors.
Laminate flooring is relatively easy to care for, but it doesn't like getting wet, so avoid using it in kitchens, bathrooms, laundry rooms and areas that are prone to standing water. If a spill does occur, wipe it up quickly to prevent damage.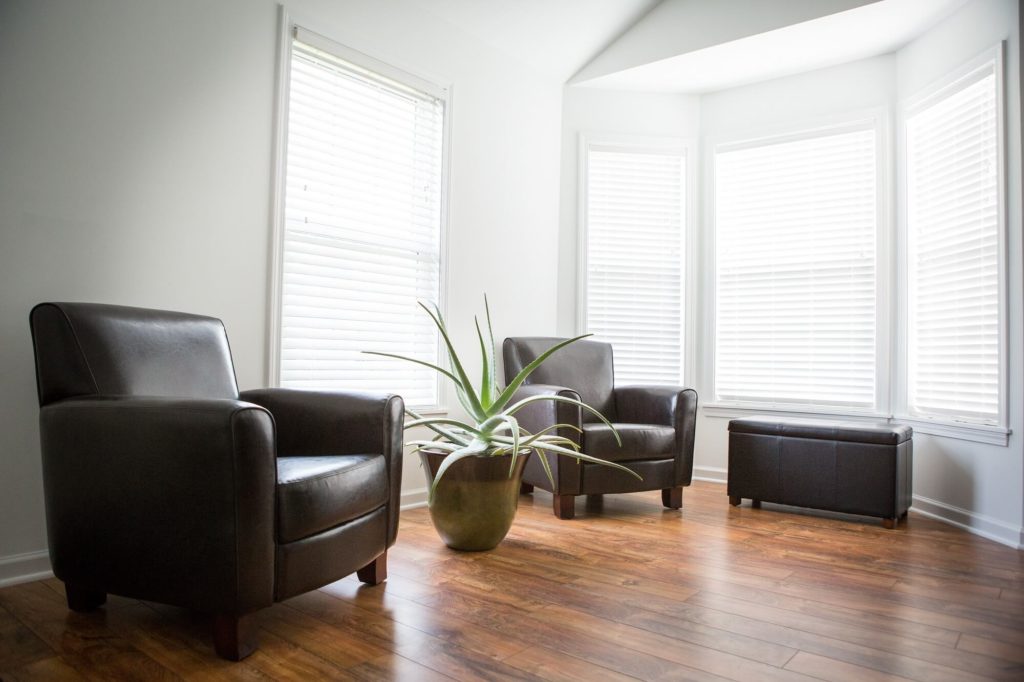 How to Make Laminate Wood Floors Shine
With the natural process of keeping the laminate floors clean, they can start to appeal dull over time. Normally, you would reach for wax to bring a little shine to floors, but wax is not a suitable choice for laminate. Get that sleek polished look in just three simple steps and using a couple of items you already have laying around the house.
Step 1: Sweep or Vacuum
Before you can do anything else, you need to make sure the floor is clean. Sweep up any dirt and debris or vacuum the floors with a beater designed for hard floors. A regular vacuum can cause scratches and damage the laminate, so make sure to use a vacuum specifically designed for hard floors. Make sure to move furniture and area rugs and get around those items as well. You would be surprised how much dirt can end up swept under a sofa.
Step 2: Remove Build-Up
Over time, the solutions used for cleaning your laminate floors can create a hazy layer of build-up. Remove that layer by creating a 50/50 distilled white vinegar and water solution. Fill a spray bottle with the solution and spray it on a section of flooring. Use a microfiber cloth to clean-up the solution and all of that build-up along with it. Continue working in manageable sections until the whole floor is treated with the cleaning solution
Tip: Make sure not to over-saturate the surface of the laminate with the cleaning solution. Most laminate is porous and can be damaged by too much exposure to liquids.
Step 3: Buff the Laminate Floors
After the build-up is removed and the floors have had a chance to air-dry, buff the floors with a dry microfiber cloth. Work in small sections, much as you did with step two. This should leave the floors clean and restore them to their original shine.
Tip: If more shine is desired, use a product specifically made for laminate floors. Typical waxes and floor polishes are not suited for laminate and should be avoided.
Laminate floorings have become a popular choice in homes and businesses alike because they provide the look of hardwood at a fraction of the price. Over time, these floors can start to look dull. Learn how to deal with three common laminate flooring problems and keep your laminate looking like new for longer. When needed, vacuum or sweep the floors using an appropriate attachment. Using a microfiber dry mop with a cleaner that doesn't contain soaps, oils, or chemicals will help to prevent the laminate from looking dull over time.