Top 10 Engineered Hardwood Flooring FAQs
Engineered hardwood flooring is a 1960s invention that allows homeowners to enjoy the look and feel of solid
hardwood
with greater stability, and often a lower price tag. Today's engineered hardwood floors look so authentic, even a trained eye can have trouble distinguishing between the two. Check out the below answers to the top 10 questions you may have about
engineered hardwood floors
.
1. What is engineered hardwood flooring?
Engineered hardwood flooring features a top layer of hardwood veneer over a plywood, hardwood, or HDF (high density fiber board) core. Because engineered hardwood veneers are made from real wood, and not a photographic layer, they have the natural characteristics of the selected wood species.
2. What are the benefits of engineered hardwood flooring?
Engineered hardwood flooring offers more versatility than solid hardwood flooring because its construction allows it to be installed in many areas where solid planks aren't recommended (like basements). This is due to its ability to resist moisture and humidity better than solid hardwood, which might be dimensionally unstable under the same conditions. Many engineered options are also able to be installed over underfloor heating systems that would otherwise dry out and damage hardwood.
3. What does greater stability mean?
The instability of solid hardwood flooring is generally moisture or heat related. In unsuitable conditions, solid hardwood can warp, cup, swell, or split apart. Engineered hardwood is more stable because it overcomes many of these problems with its the multi-ply plank construction that counteracts twisting and remains flat and intact.This makes engineered hardwood a better candidate for installation over underfloor heating and concrete, whether it's above or below grade.
4. How many layers are present in engineered hardwood flooring?
Most types of engineered wood flooring have at least three layers beneath the hardwood veneer. Some options have as many as five to seven layers. More layers provides greater stability.
5. How thick is the hardwood veneer?
The top layer of hardwood, also known as the hardwood veneer, ranges in thickness from 0.5 mm to upwards of 6 mm. Thicker veneer layers are priced higher as they can be refinished multiple times, extending the life of your floor.
6. What's the thinnest veneer layer that can be refinished?
The top veneer needs to be at least 2 mm thick for refinishing to be possible; if sanding is desired, professional sanding procedures typically remove 1/32 of an inch. The thicker the veneer, the more you can sand it without destroying the floor. However, homeowners with engineered hardwood flooring typically find that they never need to refinish it as these floors come with high quality finishes. If serious damage occurs, its often easier to have the area professionally removed and replaced.
7. What is the Janka hardness test, and what does it tell me about engineered hardwood floors?
The Janka hardness test measures the force needed to lodge a .444-inch steel ball in wood to a depth of half its diameter. This rating is helpful when you're comparing various wood species because it tells you how hard each type of wood is and their ability to withstand wear and dents.
At the bottom of the scale are species like douglas fir, southern yellow pine, and black cherry with ratings under 1000. Brazilian cherry and mesquite are at the top of the scale, rating over 2300 on the Janka hardness scale. Hardness ratings are particularly important in high-traffic areas.
Janka Hardness Chart: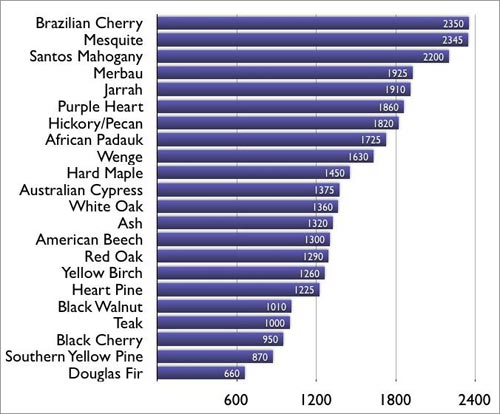 8. What does it mean when flooring is sold in random lengths?
Depending on the floor manufacturer, lengths will vary. Some will provide boards of all one length, generally at a higher cost because of the quality control measures required. Others will provide boards of random lengths, indicating the shortest board and the longest board lengths per box. With random board lengths, all the boards in the box will fall in between those two lengths. Some manufacturers will note the average board length.
9. How do you install engineered hardwood flooring?
In general, engineered flooring can be installed in one of three different ways:
nail down if installing over a plywood subfloor
glue down if installing over a plywood or concrete subfloor
float if installing over a plywood or concrete subfloor
For nail down installations, the plywood subfloor should be 3/4″ thick, and a 15lb roofing felt or moisture barrier (such as MoistureBlock) should be placed underneath.
If you're glueing the floor directly on the subfloor, use 100% urethane based adhesive with an integrated vapor barrier.
For floating installations, use an underlayment with a vapor barrier. Usually for this type of installation, the seams will still need to be glued together using regular wood glue such as Elmers or Titebond, unless the flooring is designed for a glue-less click-lock installation.
Please note, the above explanation is a very general guide. Always refer to manufacturer installation instructions for details.
10. What is the maximum variance allowable for a subfloor?
A well-prepared subfloor helps ensure a successful installation of your engineered flooring. The variance should be no more than 3/16-inch over 10 feet.
What other questions do you have about engineered hardwood? Let us know in the comments.
Browse our selection of versatile Engineered Hardwood Flooring here.