The Benefits of a Floating Laminate Floor
Laminate is undoubtedly one of the most 'low-maintenance' flooring materials available, primarily because of its unique composition. Laminate flooring is generally made up of various layers fused together to form a flooring board. There are four main layers: the wear layer, the pattern layer (also known as the image layer), the processed wood core (made of fiberboard), and a balancing layer on top of that.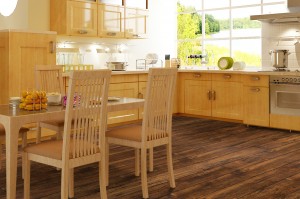 Strength under pressure
A moisture barrier and scratch resistance layer is usually incorporated within these layers. These various layers are bonded together using high pressure to ensure that the laminate floor produced is highly durable. The pressure also makes sure that the layers stick together and have an enhanced look for many years.
A floating finish
Before the invention of floating floor boards, laminated floors had to be glued to the subfloor. However, with the introduction of the tongue-and-groove method, individual planks can be interlocked to form the flooring bed to give a complete finish. That's why the method is called floating, meaning 'placing over the previous floor'.
Floating laminate floors have many advantages over glue down options, some of which include:
A floating laminate floor does not have to be installed by the tedious and demanding processes of a nail-down or glue-down installation. It requires less effort and time for the installation.
It can be easily installed over many different types of existing floors, whatever material the subfloor is made of. Whether it is plywood, concrete slab, or OSB, a floating laminate floor can be installed by simply floating the flooring boards over the original flooring or subfloor. Please note, floating laminate cannot be installed over carpet.
The wear layer is thick and solid, giving it the feel of a hardwood.
Any small or large part of a floating laminate floor can be replaced anytime for multiple reasons, including wear and tear.
A floating laminate floor has the ease of maintenance of a usual laminate floor, yet it is durable and tough as a hardwood floor. Because of this, it's not surprising that floating laminate floors are consistently popular with homeowners.