Laminate Flooring AC Ratings
What is an AC Rating?
An AC rating is a common term used to indicate the durability level of laminate flooring. These ratings are applied to all laminate floors by an independent body known as European Producers of Laminate Flooring (EPLF). To help buyers understand the difference in durability among laminate flooring products, these ratings indicate a laminate's resistance to stress.
To assign the AC rating, a series of tests are carried out in order to assess each line of laminate flooring for resistance to burns, scratches, stains and impact. These tests also examine the effects of furniture legs, castors and thickness swelling along flooring edges. Laminate flooring has a rating only if it has passed all of the tests, as failing a single test disqualifies a product.
A general guide to AC ratings:
The AC rating assigned after testing specifies the level of stress and the suitable location for the laminate flooring to be installed. These ratings will also tell you if the laminate flooring can be used in residential or commercial areas.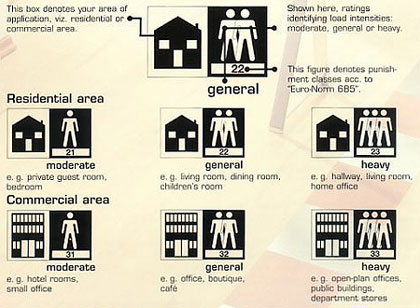 AC1 Moderate Residential.
Built to withstand only light residential use. Suitable for closets or bedrooms.
Built for moderate foot traffic. Suitable in residential spaces that don't see a tremendous amount of wear and tear like dining rooms or living rooms.
AC3 Heavy Residential/Moderate Commercial.
Built for all kinds of residential use including high–traffic rooms and even commercial spaces that have light traffic like offices without off-street traffic and hotel rooms.
Built to withstand every kind of residential use as well as more heavily trafficked commercial spaces that have off-street traffic like offices, cafes, and boutiques.
Built for the busiest commercial uses and high–traffic spaces like department stores and government buildings.
As a general rule of thumb, the higher the AC Rating, the higher the price. When shopping for laminate flooring there are several factors that need to be taken into consideration in addition to AC Rating such as thickness, finish warranty, and locking system. For more information on buying laminate flooring please see our Laminate Flooring Buying Guide.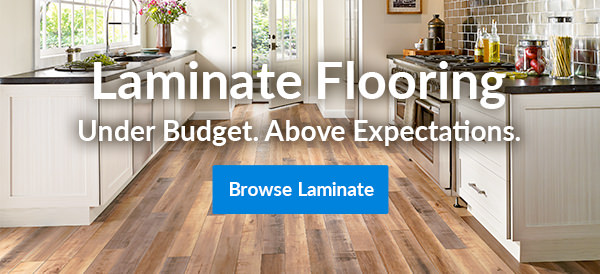 Try & test durability of up to 5 Laminate Flooring samples for free –  no strings attached.