Where to Install Laminate Flooring?

Where to Install Laminate Flooring
You can install laminate flooring in almost every room in your home, whether it's above or below ground, or over wood or concrete. Most manufacturers aim to make laminate flooring an "install anywhere" type of product.
Along with basements and living rooms, laminate floor installations are recommended for areas that are regularly used by children and pets. When a low noise level is desired in the midst of heavy foot traffic, a perfectly chosen underlay can make for a quieter laminate floor.
Laminate floors can also be installed on stairs without using underlay, but require following special stair installation instructions, along with the addition of laminate wood floor moldings.
It's important to note that climatically stable environments that avoid extreme temperature swings and excessive humidity are recommended for laminate floor installations. There are also special installation procedures for radiant heated subfloors. Following manufacturer recommendations is a must for successful laminate floor installations.
Where Not to Install Laminate Flooring
Many experts will tell you to avoid laminate flooring installations in areas prone to moisture like bathrooms, laundry rooms, saunas, enclosed porches, and anywhere that may require wet mopping. Moisture coming in contact with the floor's edges and bottom can be a problem and may cause the core of your laminate floors flooring to warp or swell.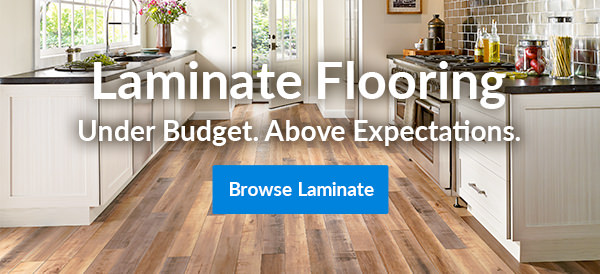 Is laminate flooring the right choice for your renovation project? Click here to learn more on whether or not laminate is right for you.