7 Flooring Software Trends for 2022
What are the latest tools available to you, a flooring contractor, that can help you reach the next level of profitability and success? This article will discuss 7 of the top flooring software trends that are being used by installers across the U.S. Some are more project management oriented and others offer estimating and project management. Read on to discover which will be the best fit for your organization.
1. FloorWizard
FloorWizard was developed by FloorSoft of Dalton, GA and has been a recognized leader in the flooring industry for over 25 years. In fact, 8 out of 10 flooring orders that are placed in the U.S. are processed using their system. FloorWizard is an ideal solution for scheduling, estimating, selling and managing your business online. Your employees can access important information about their projects anywhere there is internet service without having to run back to the office, saving you time and money. You will increase productivity, and drive growth and profitability with their easy-to-use system.
Getting started with FloorWizard is simple and the software can be downloaded on all your devices in minutes. They have 24/7 support, staffed with a team of flooring professionals that understand your business and can answer any of your software questions. They offer system training online, on site, or at your office to make sure you are getting the most out of the program.
FloorWizard allows you to set up a central database with pricing for materials and labor and allows each user to personalize their needs on the site. The software includes powerful functions to help close sales, as well update and refigure jobs all while on the jobsite, giving your team a professional edge.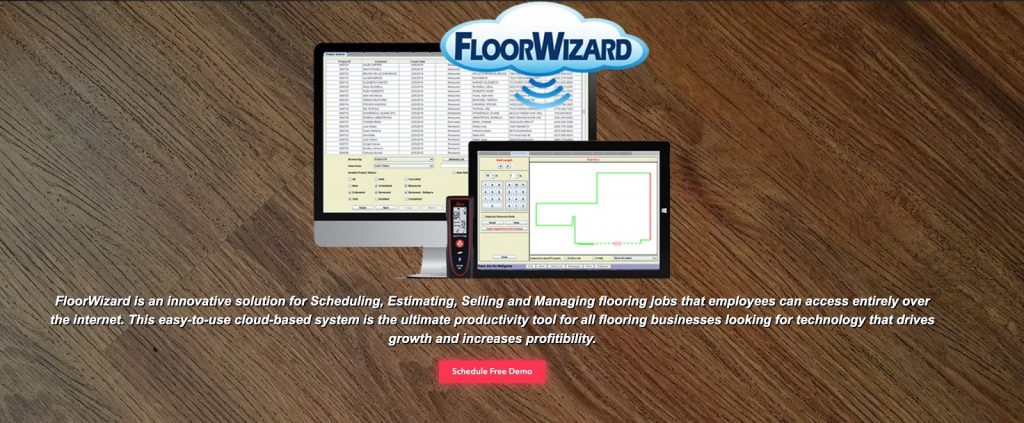 2. Houzz Pro
Houzz Pro is a suite of software tools that can help flooring companies manage and grow their businesses. Houzz Pro is a lead and management project system that helps you attract new clients, close the sale, and complete billing all in one application. It will also help you stay connected with your team and suppliers through improved communication features that allow you to share information with key players and put together job proposals faster.
Houzz Pro streamlines your business by keeping all of the data for each project available at the touch of the screen. Key features include a 3D floor planner, project management, and lead management tools with client dashboards and individual insights and an integrated online payment system to help better serve each customer. There is also a scheduling tool to make sure you don't miss appointments.
Professionals can quickly move any project discussion into a potential project and store client notes and initial estimations for improved follow-ups with Houzz Pro. It also provides a 3D floor planner to plan and visualize any project before it's started.
For on-the-go access, Houzz Pro offers a mobile app for iOS and android devices. Houzz Pro also offers expert support with industry experts and website services to help create, manage and host a professional website.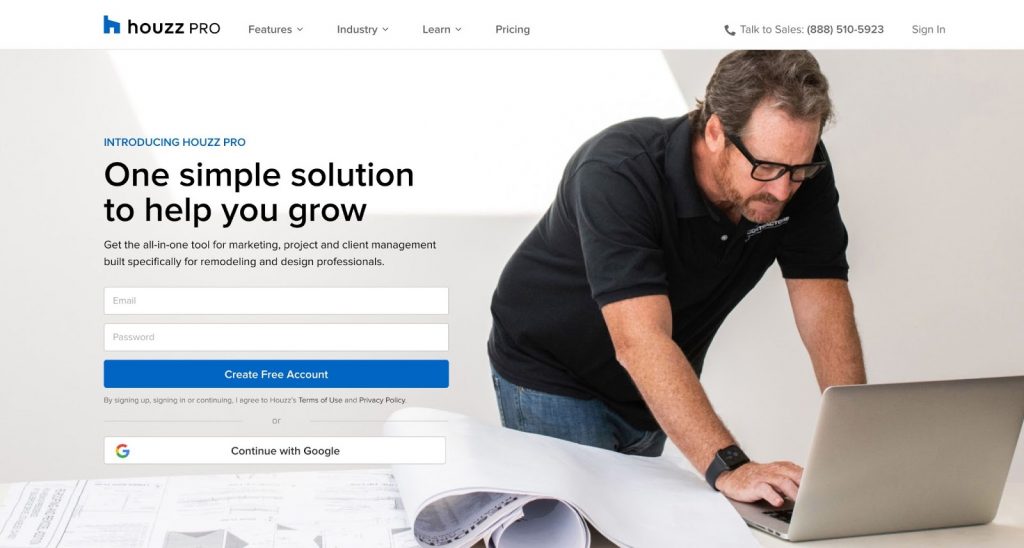 3. Buildertrend
Buildertrend connects teams, improves project efficiency and increases profits.
This solution helps you manage your flooring business with project scheduling, project management, financial management, customer management and service management in a single cloud-based collection of apps. It is available for iOS and Android devices and can be accessed by either desktop or mobile device, so you always have the information you need wherever you are.
A key feature of any business management tool is customer relationship management (CRM), and Buildertrend helps build strong client relationships by keeping you on top of the complete project lifecycle. There are pre-sale tools in the app, including bid requests, project proposals and more. Manage your projects with tools that include scheduling, budgeting, and timesheets. The service side of the business can be tracked by change order and selection management as well as warranty requests and payment processing. Buildertrend also integrates with other solutions such as QuickBooks, Xero and various estimating and takeoff tools.
When you become part of the Buildertrend team you will be provided with an account manager that will guide you through training and provide support. There is a 24/7 Learning COmmunity to help answer questions, and Buildertrend University is an additional resource that is top notch.
Buildertrend provides each business with an account manager to provide training and support. Project teams and construction professionals can also access customized branding, daily webinars, support chat, the Buildertrend Learning Community, a 24/7 help section, and Buildertrend University, a two-day conference at the home office to maximize your effectiveness with the software.
Buildertrend pricing is on a monthly subscription basis. Customized pricing based on business needs is also available.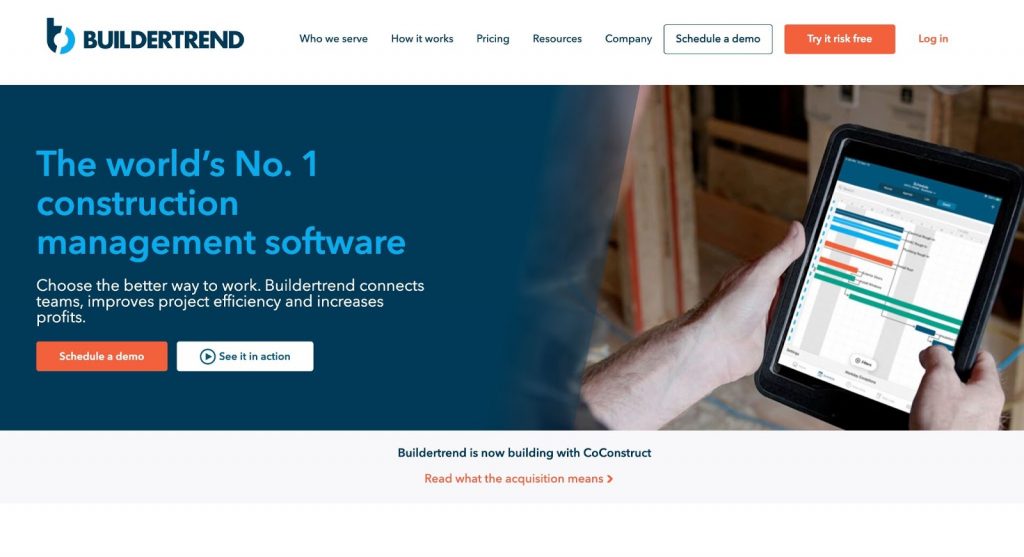 4. PlanSwift
PlanSwift is an affordable, easy-to-use point and click estimating tool that helps you create a profitable and accurate flooring estimate with precision measurements in a fraction of the time it takes with a calculator and pencil. PlanSwift is the #1 takeoff and estimating software for the construction industry.
As a flooring contractor, you know that there aren't many perfectly square rooms. PlanSwift lets you plug in the room dimensions and it gives you accurate material needs and allows you to rotate the room to get the maximum use of your flooring. The software works even if the room is curved or irregular.
Single-click on an area for carpet, tile or laminate flooring. When that section turns color, the software has counted it. You'll know when you have done a complete takeoff and never have to worry about losing money because part of the floor was missed in the estimate. The perimeter measuring tool gives you a quick count for nailing strips and baseboard. When you're finished, you can print the estimate or export it.
Bid more jobs, manage your company more efficiently, and grow your business with PlanSwift takeoff and estimating software.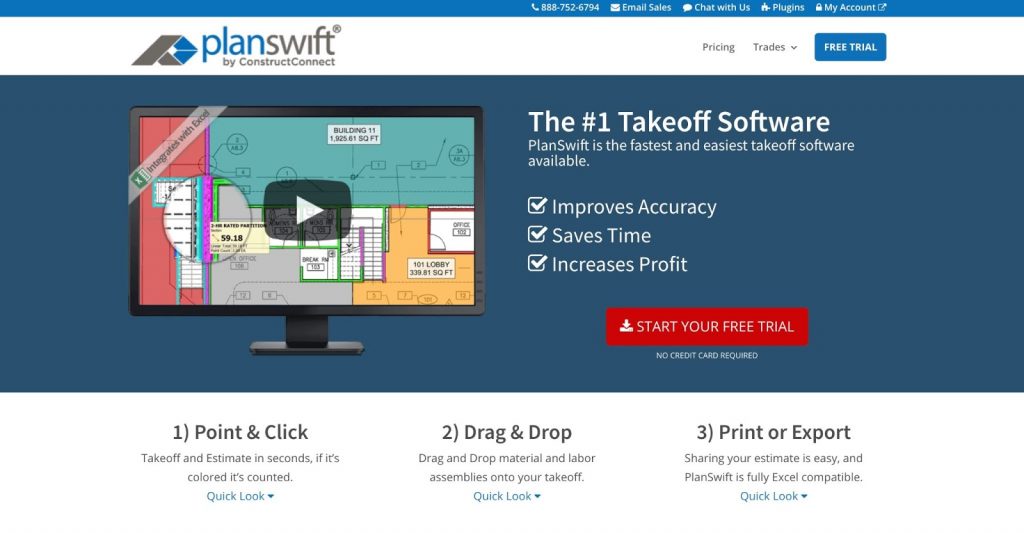 5. Jobber
Jobber is about giving your customers a convenient experience from start to finish, because that is what they expect. If you're running multiple jobs, running a flooring business can get chaotic. You have to schedule your crews, keep track of site visit details, prepare and deliver estimates to multiple clients, and manage the finances of your company. You need help, and Jobber software can take the load off of you.
Their affordable and user-friendly platform will make scheduling, job management, and quoting and invoicing a breeze, so you can focus on growing your business.
As a flooring company, managing your crews efficiently is your number one priority after customer satisfaction. Jobber's scheduling tool turns a work request into a job, assigns a team to it, and checks on the status for completion so that you can invoice the client as soon as possible.
Jobber's quoting tools let you send out a quote, with attached photos and notes, create custom fields for tools and materials, automatically track and follow up on quotes and allow customers to approve the quote in the client hub.
Jobber was designed so that whether you're at the office or estimating and installing out in the field, you have the tools you need to grow your business.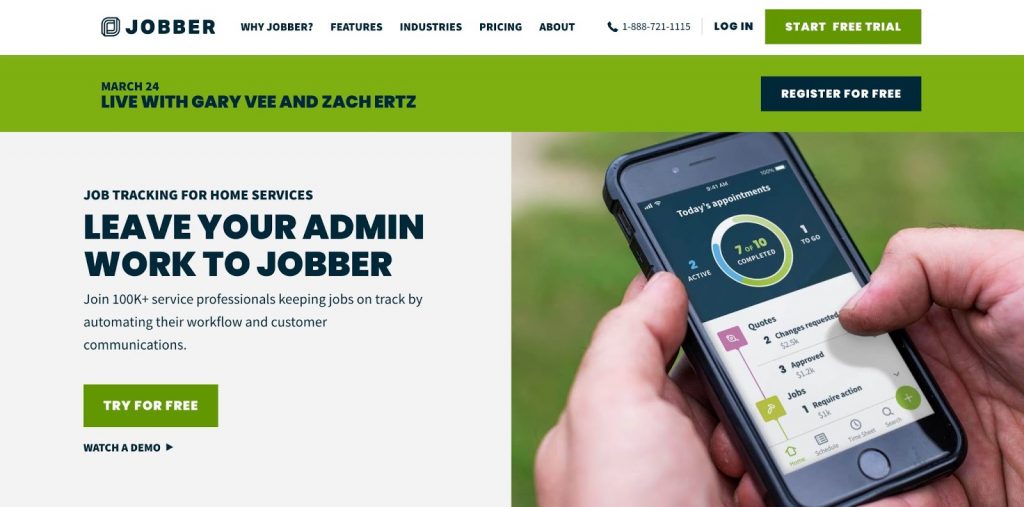 6. Autodesk Construction Cloud
Autodesk Construction Cloud can help you increase collaboration, mitigate risk and reduce rework so that your flooring company can operate at optimum efficiency and profitability. As a flooring contractor, Autodesk Construction Cloud will help you:
Streamline the installation process, issue more bids, and increase bid accuracy.
Avoid rework and mistakes by always working from the latest plans and documents.
Connect the field and office through faster and more sustained technology adoption.
Autodesk is a project management tool that lets you see where you are at every stage of the process and gives you insights as to what is working right and what you need to address on every project to complete it on time. The platform can generate customized reports to track service requests and punch lists. The software will keep all members of your team on the same page as you work through each project.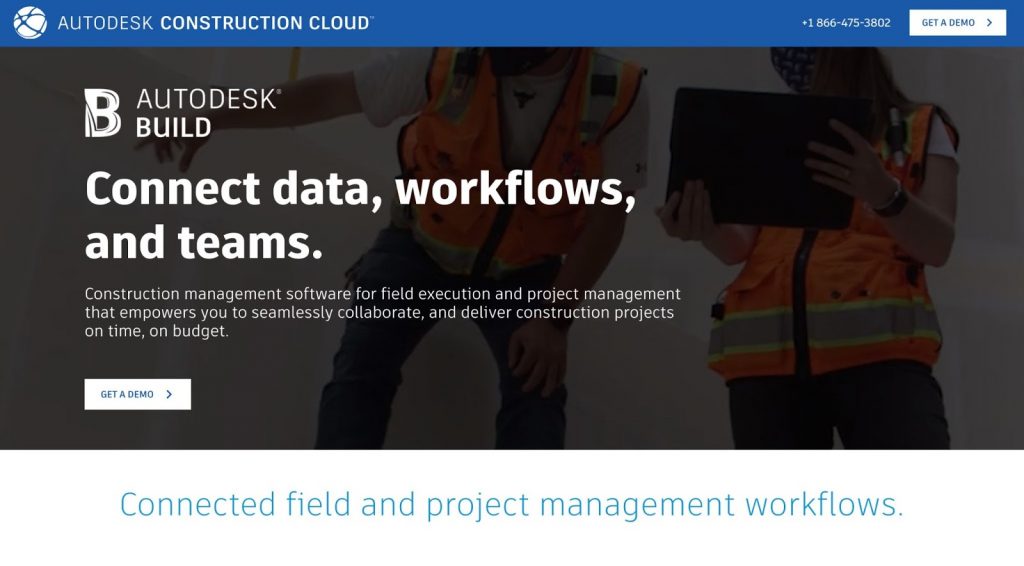 7. Contractor Foreman
Contractor Foreman is a suite of tools that gives you access to:
Project Management
Financials and Accounting
Scheduling and Planning
A Contract Manager
Forms, Checklists and Reports
From the dashboard of the platform you have access to project photos, info on employees time cards and where they are working, an appointment calendar, and more. There is a client portal that allows your clients to see the progress being made on their job, message you with concerns, and pay you when the time comes.
You will find a section that tracks repairs, service calls, change orders and purchase orders. You can stay on top of employee's clocked hours, estimates being worked, as well as payments and expenses. Each employee has their own section on the app where you can communicate individual work assignments to make sure they know where to go and what to do at any time.
Contractor Foreman has a 100-day money-back guarantee and will work on desktop as well as mobile devices. During the trial period you have access to fee training. They offer customer support during working hours and after-support through chat and email. Contact them today to see how Contractor Foreman can save your flooring company time and money.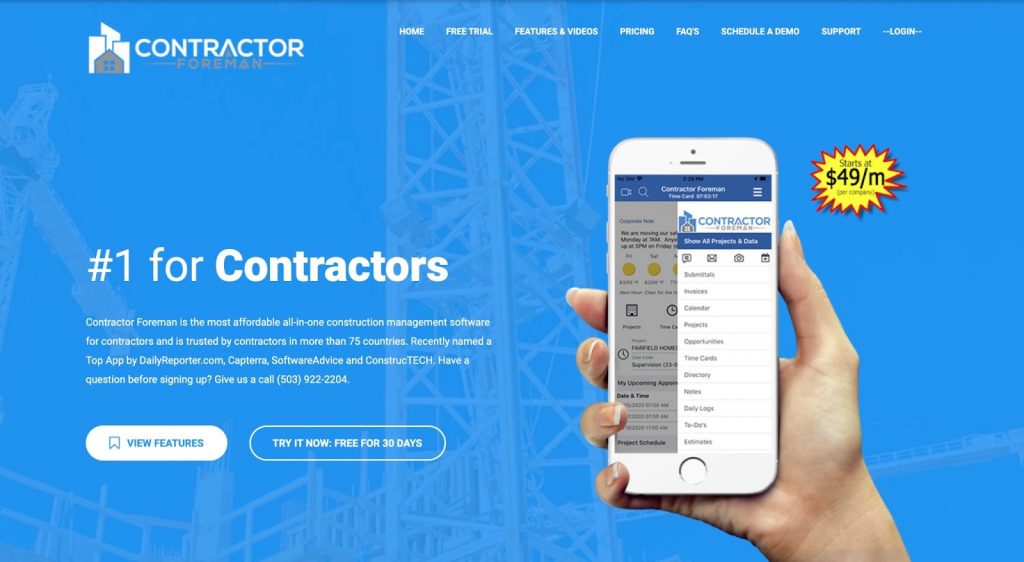 Stay on Top of Your Bottom Line with Specialized Flooring Software
Whether you are a sole proprietorship, a partnership, or multi-level corporation, you need assistance to make your business as successful as possible. In today's fast-paced environment, reaction time is critical. When a customer is ready to purchase, you need to be prepared to reach the customer, present the best solution to the customer's needs, and follow through with quality product and services.
Specialized flooring software can help achieve each of those goals and BuildDirect.com can provide the best flooring to meet your customer's design needs. Contact us today for more information on becoming a BuildDirect PRO and our PRO Rewards program that will help save you money from day one.